It took me about half a second to answer "Yes!" to an invitation to attend a turkey hunt for women, sponsored by Fiocchi and hosted by Rut N Strut Guide Service, out of Elk City, Oklahoma.
When I found out that not only would Jacob Eaton and Holly Hammond (Media Direct Creative and Fiocchi employees) be onsite, but also Olympian Lanny Barnes and Baschieri and Pellagri's Federica Gozza, from Italy, I felt even more optimistic that it would be a wonderful experience. Besides, it featured Rio turkeys, some of the "easiest" to hunt.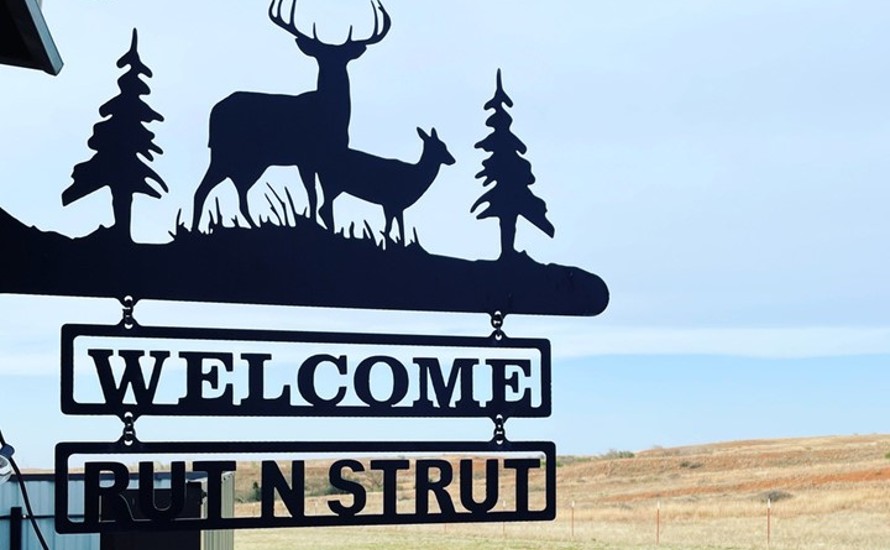 To make it even better, upon arrival, I discovered that Lanny's twin sister, Tracy Barnes, had tagged along. You can read all about the twins here. They have been contributing to The WON for several years, and have become fast friends that we get to see at industry events and even, on a more personal level, when we met on a blue grouse hunt in western Colorado.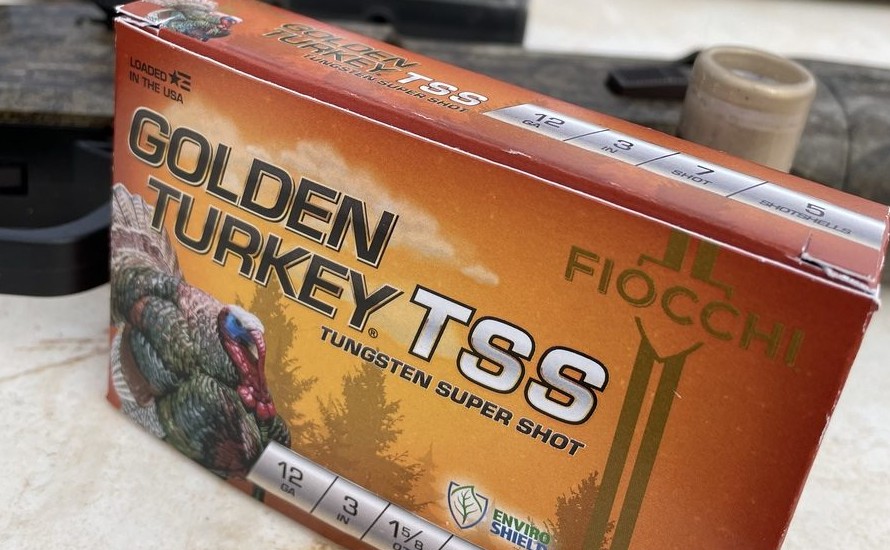 Holly, Jacob and I recently had attended a media shooting event in Alabama (HUSH, which also featured Fiocchi ammunition), so we looked forward to getting to spend some more time together. When you hunt together, it's a whole new experience – that affords some pressured moments, along with down time that allows you to get to know people.

Todd Rogers runs this outfit efficiently and with a flair for kindness and proficiency combined.

Upon arrival, we set up the range to shoot the Savage shotguns on loan at 30 yards. We used Fiocchi's new Golden Turkey TSS, not available at that time on the market to the public. Fiocchi described it this way: "Fiocchi has reinvigorated our keystone Golden Turkey load. Utilizing our perfected nickel plated lead shot, clean burning powder, and improved wad - turkeys won't stand a chance. Fiocchi Golden Turkey shotshell, the gold standard for turkey hunters." Look for this shot to be out next year in time for turkey season, or this fall.
The hunting: her first bird and first time for turkeys
Federica tagged the first bird.
I had originally heard that Federica wasn't going to hunt, but just observe. After she showed up from the long flight from Italy and a long drive, she had changed her mind.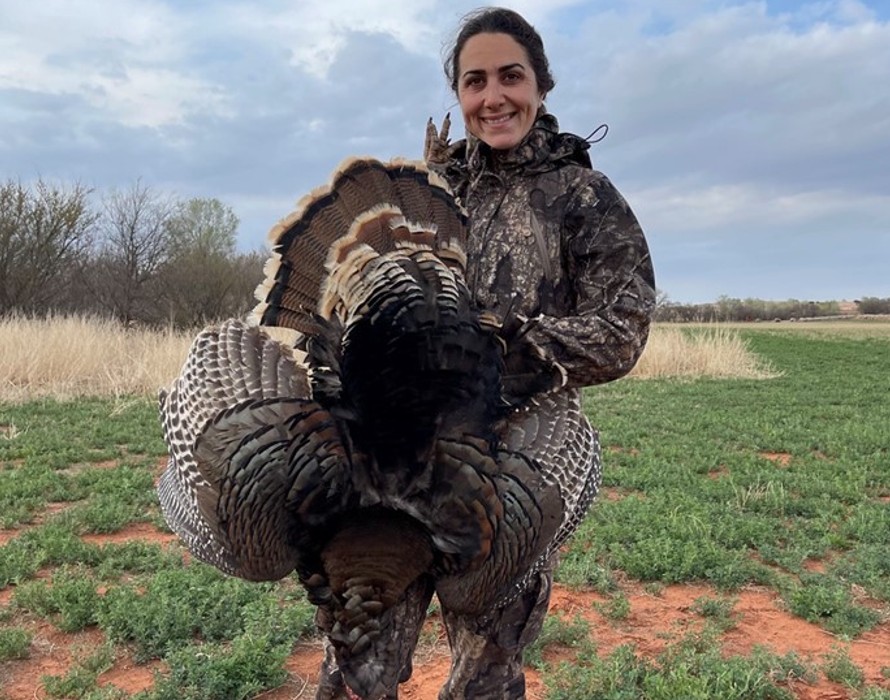 Federica said, "Hunting is a worldwide passion. It doesn't matter which game, which state or which continent. It's a lifestyle. It's something that you have inside you. You can connect with nature... the role of the human being is to be part of this and to help."

Later, she said, "It was an unbelievable experience… it was a challenge, between me and nature. And also, with the turkey!"

According to Jacob, Federica belly-crawled through tall grass several hundred yards to get close enough to land one shot from a .410 Savage shotgun, and downed that turkey. For a new hunter, she kept low and quiet, and then, managed to shoot a good shot. She said, "It was an exchange between the caller and the turkey, and you have to be clever."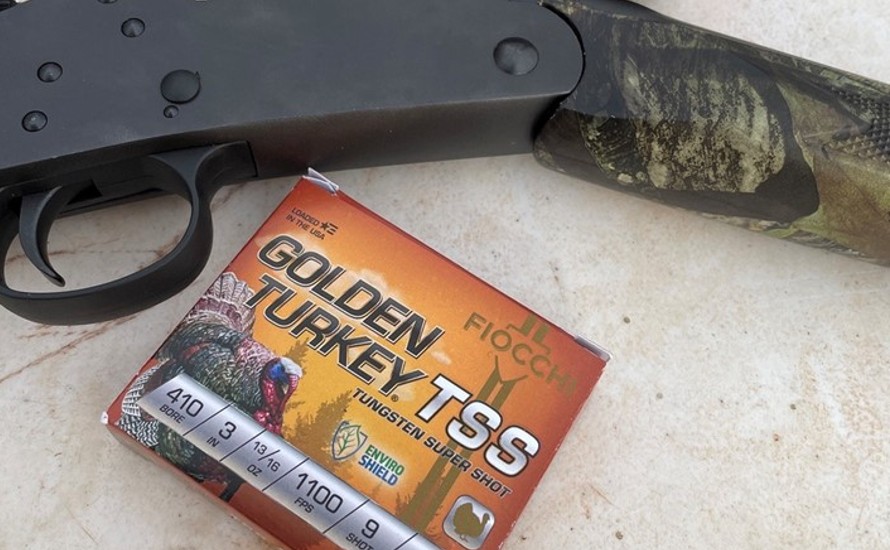 Federica has hunted for ducks, pheasants and hare. She said her mother asked her if she was holding a "real bird!" In fact, now she is interested in doing a "Grand Slam" for turkeys.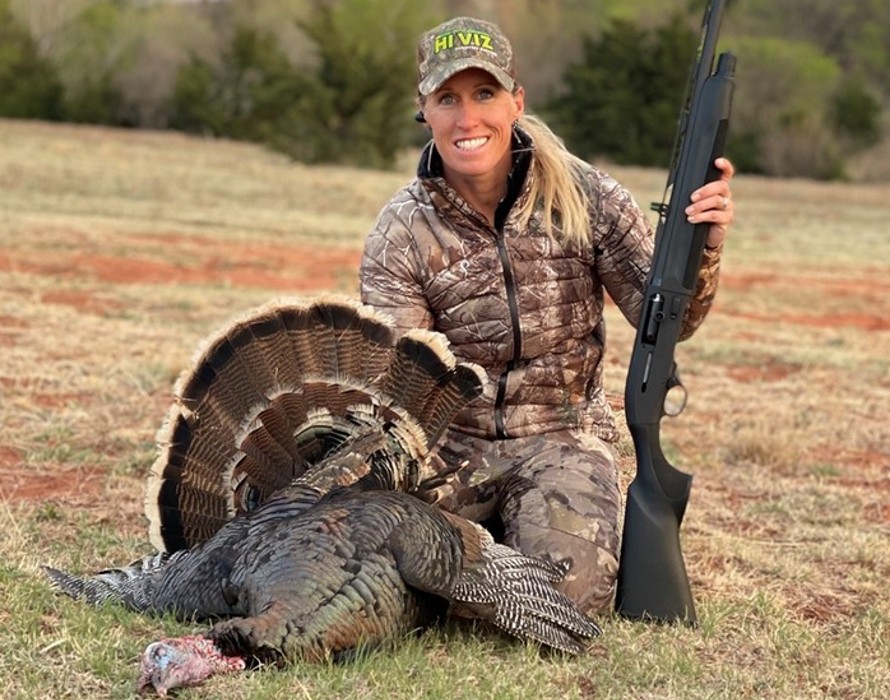 The hunting: Lanny's bird
At the end of the first day of hunting, we heard that the twins – hunting together – had a bird down.
Lanny decided to take a jake, which is not a bad thing in the world of turkey hunting, especially when jakes appear to dominate and we saw them everywhere.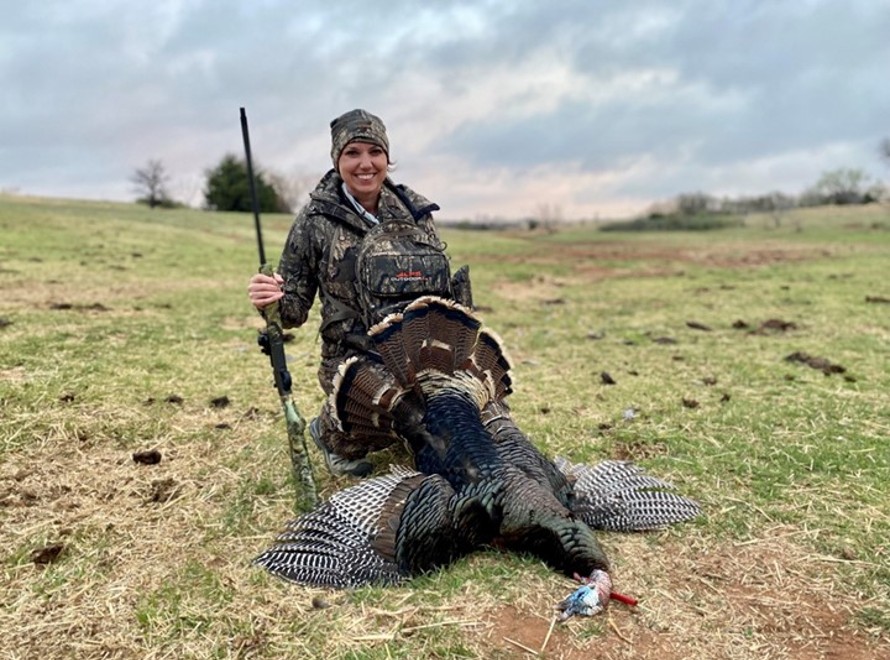 Holly and I witnessed a particularly gnarly gang of jakes that hung around a cattle feeder near us. When a group of jakes is present, a lone tom generally will not approach.
Look at it this way – you can be the world's best heavyweight boxer, but if you are overtaken by 11 teenage boys on adrenalin, it's not a fair fight, and this is nature.

The hunting: Holly's first bird
Holly and Lanny went back to where Holly and I had been, in a blind in a cattle pasture. At sunrise, a big old tom and a hen surprised them.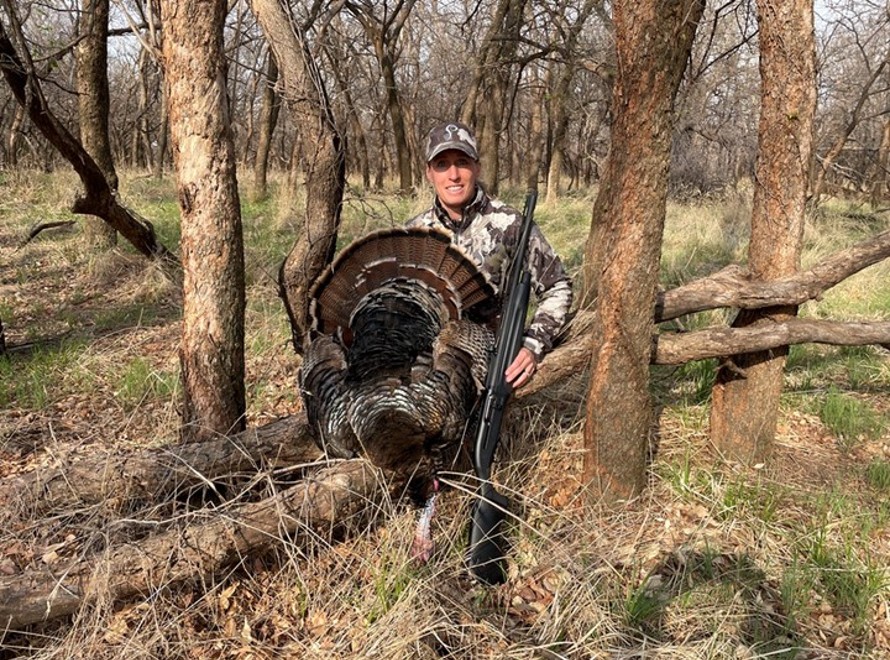 Lanny called them a little closer, and Holly took that .410, laid it flat and tagged a bird.
One and done, and now it was Tracy's and my turn.

The hunting: Tracy's first Rio
Tracy and I wound up sitting near a feeder in the woods off a field out in the middle of nowhere. It felt good to be out in the woods and out of a blind and within an hour, we noticed a group of turkeys meandering our way, following the tree line and out in the adjacent field.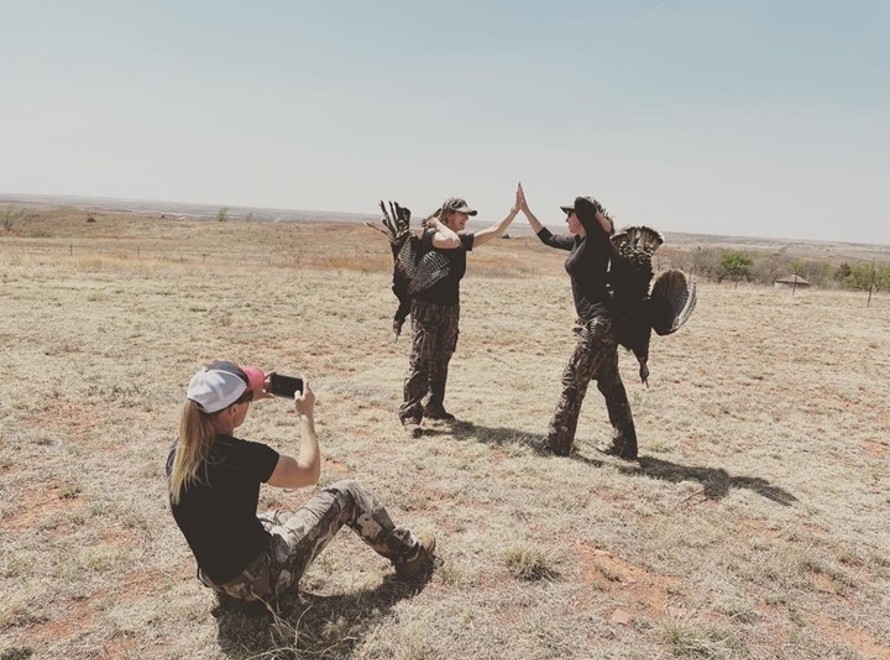 Lo and behold, two big toms swaggered along after a bunch of hens. Perfect. One for her and one for me. We held still, hardly breathing and not moving, planning on doubling and telling a good tale later.
But, as luck would have it, one of the hens saw us, and the whole group did a rapid 180 and headed the opposite direction.
But, wait.
We then heard them circle back, but behind us in the woods.

And then, it went quiet. Eerily quiet. We started whispering to each other and I crawled over to her.
"I think they're back there!" I said.
I just had this feeling.
So, Tracy popped in a mouth call, and we started grunt crawling through the woods. We'd stop every few yards, Tracy would do a nice little yelp or six, and we'd listen.
Nothing.
We'd crawl a little closer, and once in a while, slowly pop our heads up over a log or weeds to see if we could see them.
When we got about 35 yards away, we saw those two big boys, just looking to see where in the wide world of Oklahoma red dirt that pretty little hen could be.
I side crawled to be closer to Tracy. At this point, it had been nearly 45 minutes of crawling and spotting. She could see one. Then I could see one. But we could never see them together at the same time.
I told her to go ahead and take the shot if she got it. You see, she'd never tagged a Rio before… it was her time.

She set up a shot, from the prone position. She shot and we heard a, what I call, death gobble. His buddy walked around the dead body for a few seconds and then exited stage left.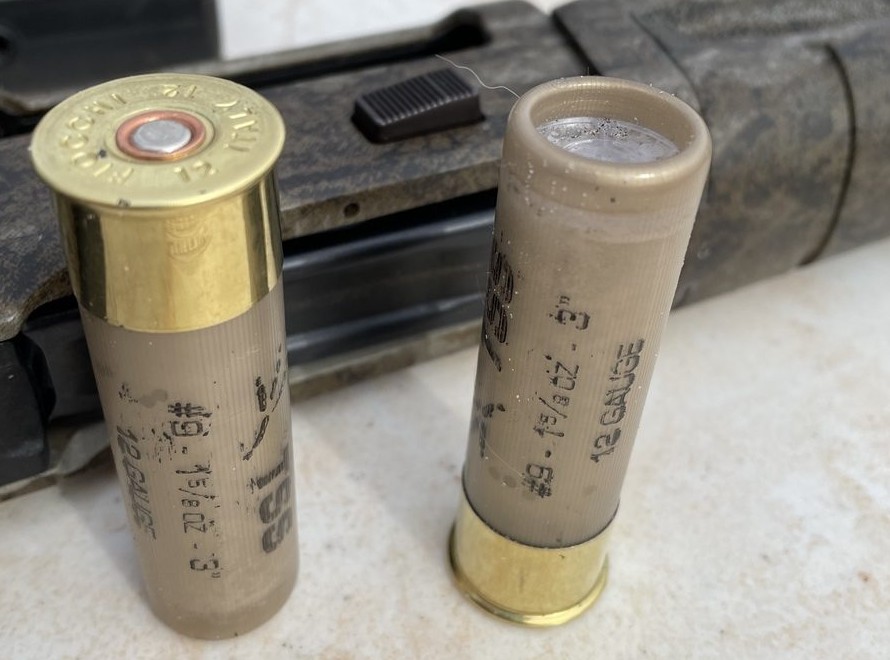 The ammo rocked. It knocked. It didn't allow for runaways.

Meanwhile all four women hunters had tremendous success afield, and I loved being a part of it and telling this story, of three "firsts.