MG2 Mythos represents the paradise of cartridges from the Bolognese company. The range includes fine and well-finished cartridges, assembled with top quality components and with a perfect ballistic.

Relatively recent, this range includes MG2 powder, one of the most successful and most appreciated recent B&P propellants by Italian hunters.
The advantage, as for all the others B&P cartridges, is that impeccable constancy that has created the myth of an absolute reliability even with the lively change of climate, from dry and clear temperate September mornings to colder and more misty, humid ones during December, known as a difficult period for almost all the best cartridges.
We have a beautiful box of 10 pieces with metal inserts, showing the cartridge components.


MG2 Mythos 28g HV 20 gauge
A cartridge with 28g of selected lead in which we research the best ballistic performance at maximum power expressed by the 20 gauge, that always received a great interest from those looking for a challenge and a test with themselves.
MG2 Mythos HV will show the fastest and most performing charge made in the 20 gauge, suitable for hardest hunting condition and where the ballistics of the smaller caliber are put to the test in the most difficult and bad way. The cartridge we chose with special selected shots, surface treated, n° 5.
It represents a rational choice for those who practice upland game or the most appreciated migratory game without giving up to a light rifle and looking for a great challenge and focusing on the target.
It's a very fast cartridge with good shot patterns thanks to the special lead and the Z3M wad made of a special soft and anti-freeze plastic material.
The cartridge tested for his pattern at the steel plate, gave a very tight and well distributed shot pattern at 30 meters, from which we can deduce a certain effectiveness of the subsequent shots up to the threshold of 38/40m.
Thus, the best features of this cartridge are: an optimal balance between power and pattern, a certain lethality on game.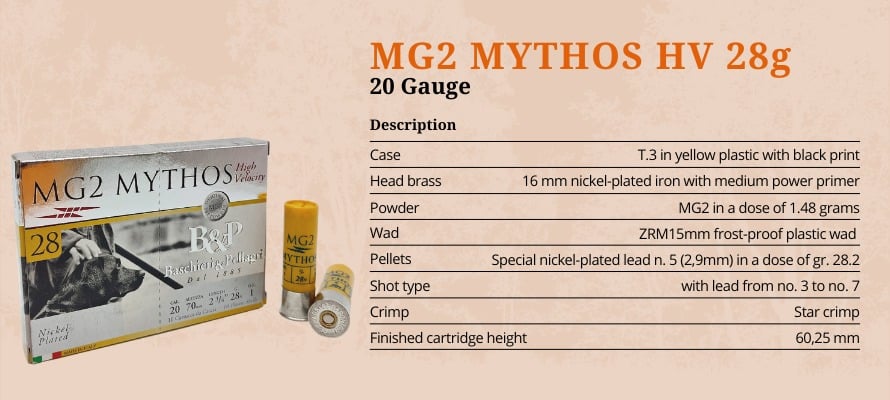 MG2 Mythos Fiber 30g cal. 20
Powerful 20 gauge Baby Magnum cartridge that employ 30 grams of selected special shot and a traditional type wad made with plastic couvette and felt wad.
The main purpose of such an arrangement is clearly to create generous shot patterns over medium distance and a perfect ballistic performance in hunting together with their dog or more generally, in the first barrel in various hunting forms.
Although heavy weight, this MG2 Mythos FIBER denotes considerable speed and power and a decidedly performing ballistic performance for a 20 gauge, in which in fact in this case is used the weight of 16 gauge.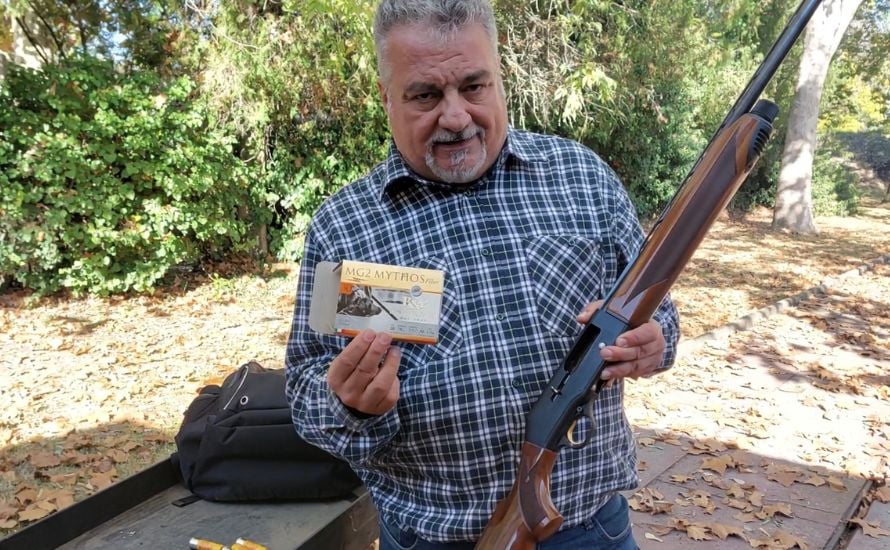 The cartridge tested on the steel plate with our old Beretta AL390 automatic with IM choke ** and 66 cm Mobil Choke barrel. at 30 meters. We have obtained very beautiful and well distributed patterns. The high speed impact of the lead created on the plate very clearly and shining traces, the same from the margins to the center of the pattern.
The hull is a plastic case 20/70 with metal head 16 mm. high coated with anti-oxidation treatment.
The powder is clearly MG2 and the special hardened lead.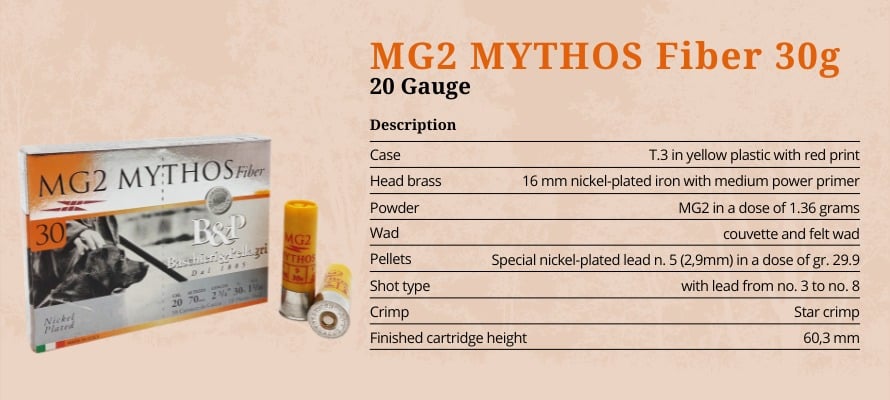 A powerful cartridge, it is particularly suitable in the winter season until the end of the hunting season, for use on upland game, or with small lead shot and cylindrical barrel in woodcock or pheasant hunting in the woods.


MG2 Mythos Fiber 37g
Now let's talk about the 12 gauge: let's take a look at the Mythos 37 grams!
Our cartridge in question is a 12/70 with 37 grams of special nickel-plated lead, couvette and greased wad in fiber felt, MG2 powder and star crimp, on Gordon case with white, high metal head.
It's a perfect choice for upland game hunting: hares, pheasants and partridges, but also for the rarest and most valuable grouse, or an excellent first shot for some migratory games, such as woodpigeons, woodcocks, ducks over decoys away from wetlands (not lead banned).
Very fast load with large but regular shot patterns, thanks also to the nickel-plated lead and the premium grade wool fiber wad.
The best peculiarity of this cartridge is, in short, a perfect and not too tight pattern which nevertheless brings considerable power and penetration to the prey. The pattern thanks to the absence of the container enhances the characteristic of the constriction used.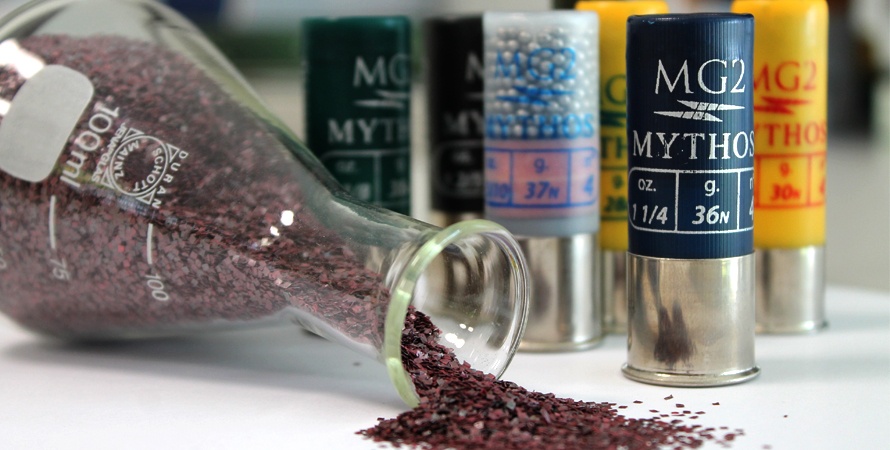 Powerful and with a guaranteed effect until the most intense winter colds, the Mythos 37 will remain very effective even on notoriously hard prey such as hares and well-feathered wild pheasants at the end of the season. It is preferable to use it in medium weight weapons and in any case not too much light.
With the usual bottlenecks of our test, decisive and exciting hunting shots are possible even at medium-long distances.
The type is semi-modern "Plastic / felt / star" , the cartridge case is a Gordon 12/70/22, therefore type 4, with a white anti-oxide treated caseback and Amut plastic tube, with a strong trigger
The charge is composed of the very modern MG2 powder in a sustained dosage of about g. 2.07 with 37 grams of special nickel-plated lead.
Tested on the bench, without preventive air conditioning, tested in late autumn with about 20 degrees outside, it proved to be decidedly powerful in relation to its high initial speed. The wide choice of numbering of the pellets (3-8) makes it versatile and suitable for various forms of hunting for different species of game.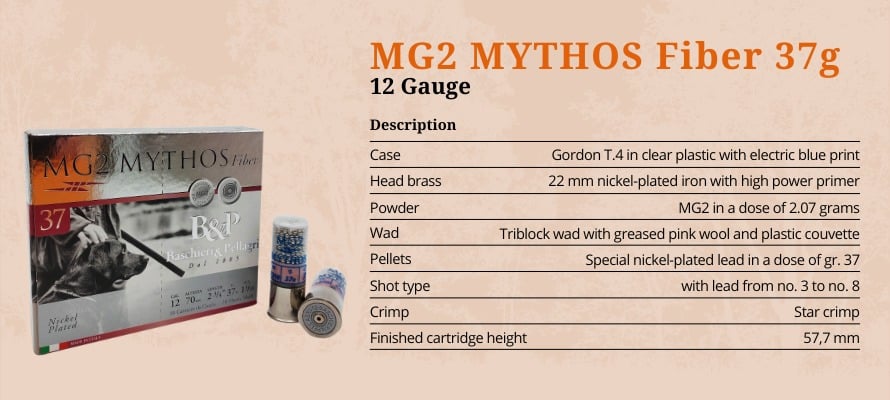 MG2 Mythos 38g
Powerful shotshell with 38g of special and selected lead; set ballistically in order to obtain a valid extension of range and a remarkable effectiveness on tenacious game even in winter.
Compared to the version with 36g of shots, this cartridge sacrifices a handful of m/s of its muzzle speed to gain some valuable extra units in the group.
It's easy to understand how this cartridge is particularly suitable for favoring the use of large shot, looking for the best density and strong penetration in the shot patterns.
With these ballistic bases, an elective choice has been created for hare hunting, late season wild pheasants and in any case always when it is necessary to squeeze all the available efficacy from our 12 gauge gun.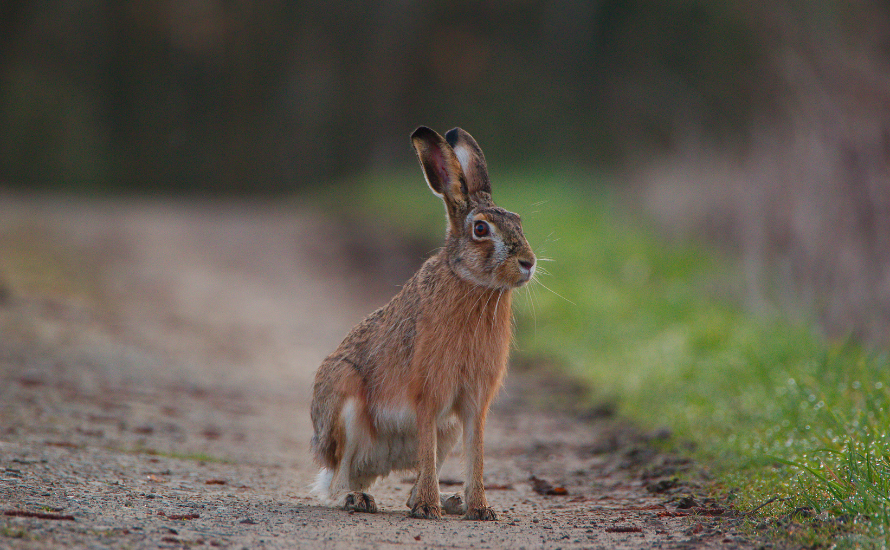 It's advisable to use this powerful ammunition in automatic and/or swing-action shotguns of medium to high weight in which the recoil energy and detection remain at acceptable levels.
Insensitive to atmospheric variations, both for the excellent constancy of the perfectly gelatinized and not very porous propellant, and for the considerable supply of energy that the Mythos 38 possesses.
Due to its components, actually it's a shotshell with guaranteed and reliable performance throughout the hunting season.
Available with pellets from n° 3 to n° 8, reveals an extreme versatility that makes it perfect for hunting from partridge to hare, up to foxes.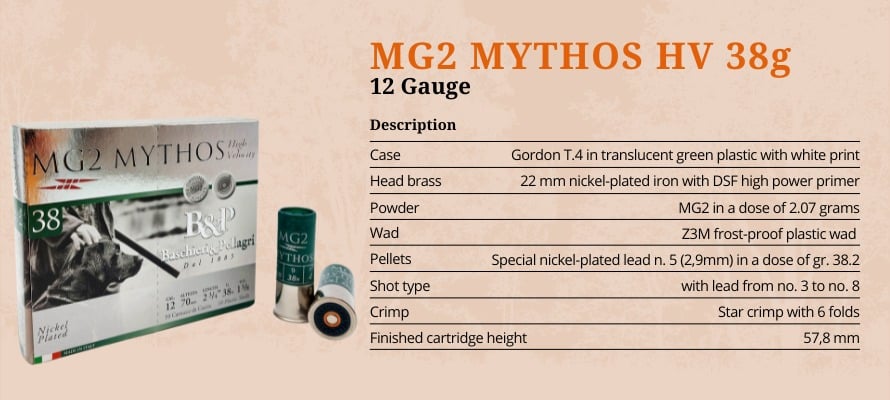 The shot patterns, made with a 76 cm barrel and choke **, gave an average density of 76% in the traditional 75 cm circle.
MG2 Mythos HV 36g
In this MG2 Mythos range, the 36g lead high-speed battleship is probably the most widely used and appreciated cartridge for its ballistic characteristics.
The very high muzzle speed is reflected in a lower advance in shooting prey in flight or in running and in a powerful impact energy even on the most tenacious wild species, such as the hare, the larger ducks and the end-of-season pheasants protected by thick winter plumage.
The set-up with the special pre-cut Z3M antifreeze container wad ensures that this cartridge always develops perfect patterns and at the same time guarantees perfect resistance of the polymer of the wad even in the most difficult winter and rigid conditions.
Remember that the Z3M wad uses a special polymer that ensures perfect elasticity even at temperatures close to -10/15° C. Particularly versatile thanks to the availability of a wide choice of pellets from N° 3 to N° 8.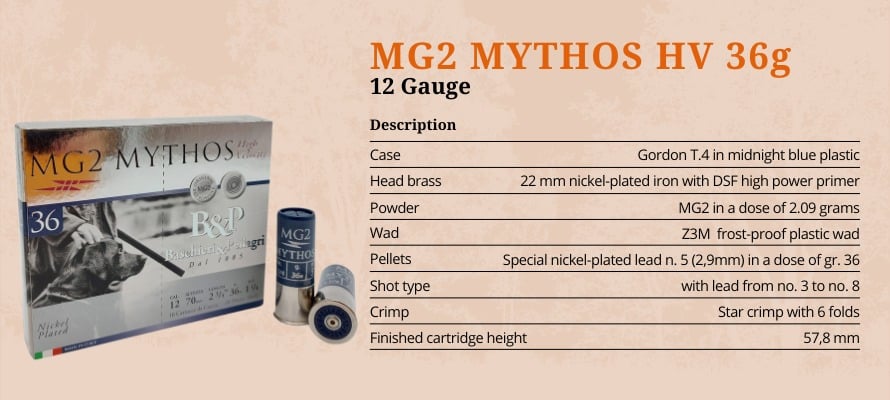 The shot patterns, made with a 76 cm barrel and choke **, gave an average density of 74% in the traditional 75 cm circle.

MG2 Mythos 40g
This is the "Baby Magnum" cartridge of the MG2 Mythos line.
The heavy load of selected special shot combined with a rather high muzzle speed makes this oversized cartridge very similar in concept to a Magnum load. The severe recoil requires the use of heavy shotguns to have a good stability and a quick realignment of the line of sight with the target after the first shot.
Appreciated for its lively ballistics and precut Z3M antifreeze wad, it's a cartridge specifically dedicated to the most difficult hunting conditions.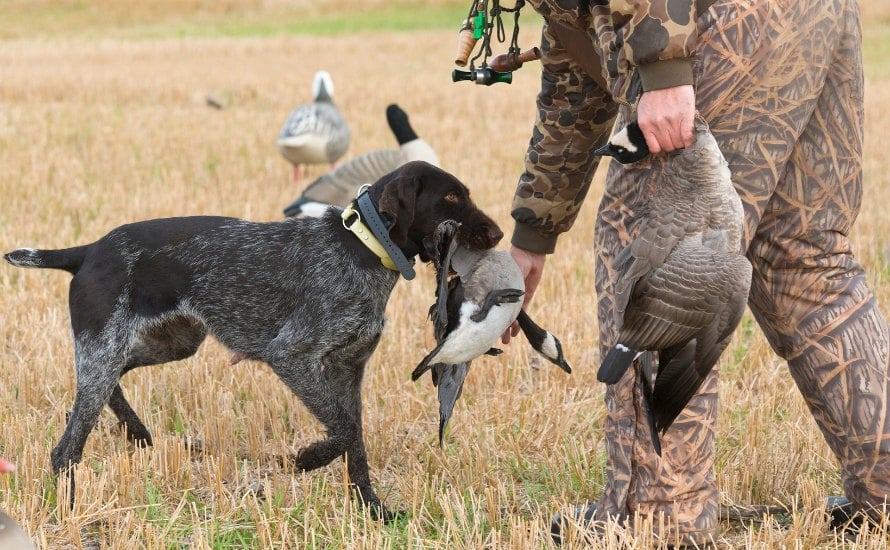 Particularly versatile thanks to the availability of a wide choice of pellets, from n°0 to n°7, it's an elective choice for hunting from fox to hare, gooses, partridge in the least favorable conditions.
Like all the other references in the MG2 Mythos line, the use of the plastic case, the special polymer wad and nickel-plated lead, make this cartridge very stable also in terms of storage, which in any case must be carried out avoiding large temperature and hygrometric changes.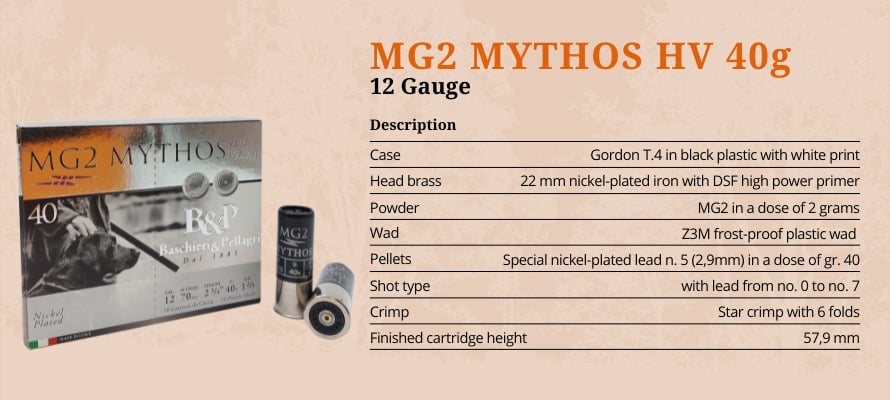 The shot patterns, made with a 76 cm barrel and choke *, gave an average density of 79% in the traditional circle from 75 cm to 34m.


MG2 Mythos cal 12 Magnum 46g
This is a modern Magnum ammunition, with a medium-light charge of nickel-plated pellets and high-tech ballistics, for a truly remarkable result on the hunting ground even in shots at the limit of range.
Nowadays the hunting has increasingly difficult situations: long shots to strong and resistant animals such as ducks, foxes and hares even after the first days of hunting, occur with a considerable frequency.
Modern firearms are increasingly equipped with a Magnum 12/76 chamber capable of using both normal and oversized cartridges; therefore, this Mythos Magnum 46g is in fact usable by almost all modern shotguns.
The new cartridge is a "fast magnum", with a light weight, which contains a charge of 46 grams of special lead and has a zero speed as high as that of a 36 gram shotshell.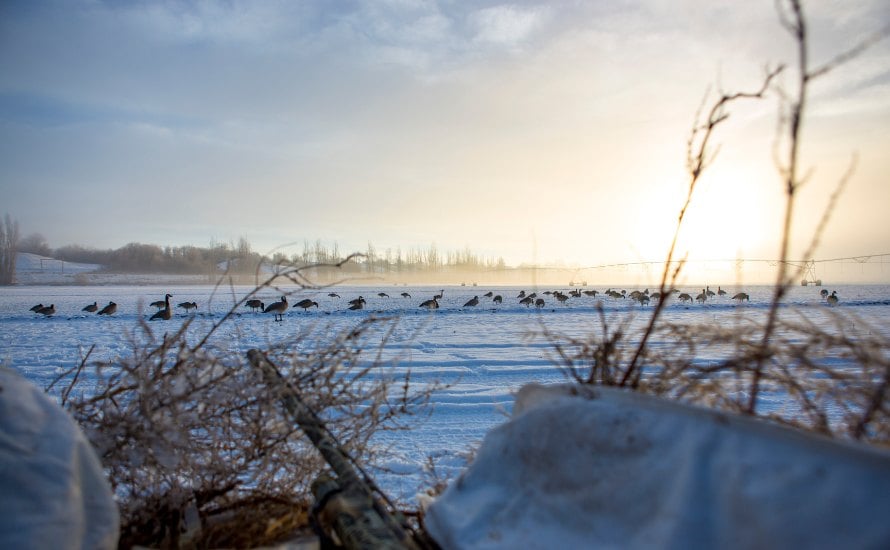 The recoil is severe but not excessive, well-modulated thanks to the Gordon case and always manageable even in medium-weight automatics as are practically all the modern ones of the latest generation.
The new cartridge from Baschieri & Pellagri effectively recalls for its weight those that were the first magnums of the 1960s, cartridges in 12/76 casings with a charge of 46 grams of shot.

So, the lead contained in the cartridge in question, first of all is very beautiful and regular, with a silvery color and of excellent sphericity, clearly of a special type, it has been hardened considerably by means of a rather high percentage of antimony.
The cartridge in question uses the MG2 powder currently produced by Baschieri & Pellagri, detected in the cartridges discharged at a weight average of 2.22 grams.
"MG2" is a slow burning powder suitable for both high speed and higher weight loading.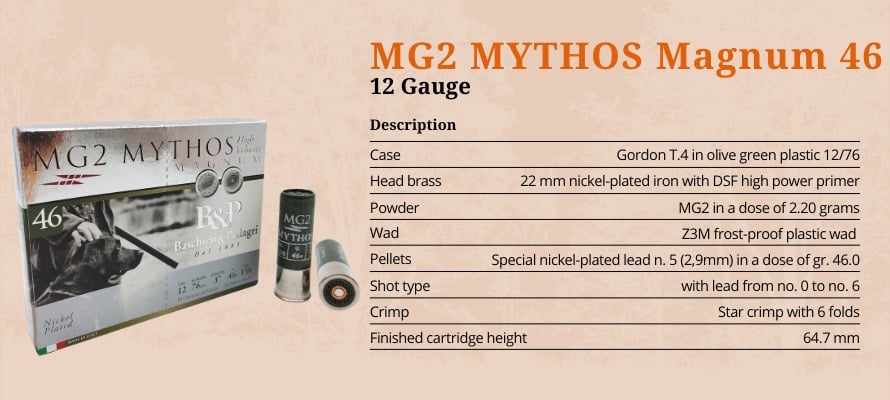 The shot patterns, made with a 76 cm barrel and choke *, gave an average density of 78% in the traditional circle from 75 cm to 36.