Let's have a look at the new ranges of 2022 launched by B&P: the Privilege Game Steel line and the Dual Steel line.
The first one, it's based on two 12/70 cartridges with different loads: 28 and 32 grams with Steel Green Core wad 100% biodegradable material plastic.

The double weight expresses a double meaning: the 28 shotshell allows the development of very high initial speed in compliance with the CIP regulation. Because of this high speed it shows a good lethality and deep penetration even at the limit of the maximum range for the steel ammo.
The cartridge with 32 grams favors a greater number of pellets in the pattern, looking for a greater density of impacts to provide it with maximum effectiveness at long distances.
Thus, the double weight also has a reflection on the recoil generated, in fact the lighter load is more comfortable and easily usable even by light and super light shotguns, which are very diffused nowadays.
The medium charge of 32g/1-1/8oz. generates a higher recoil sensation but perfectly manageable and tolerable in medium weight guns, comfortable when used in heavy shotguns.
The Dual Steel line
Outside the Privilege line, we find a very interesting innovation in the Dual Steel 28 and 32 cartridges 12/70-2 ¾ " hull and 36grams in the 12/76-3" Magnum case.
The innovation of the Dual Steel line is in the charge of double-dimension steel pellets with orderly stratification in the column, which sees the larger diameter pellets in front of the smaller ones; loading technique already known and used in cartridges with lead shots to obtain significant ballistic advantages especially to shots at the limit of the range; the Dual Steel also uses the Steel Green Core wad in 100% biodegradable material plastic.
Privilege Game Steel 28 grams
The new Privilege Game Steel 28 grams is a light weight "Steel" cartridge with one ounce of shot, in 12/70-2 ¾ " hull. An extremely versatile ammo that can be used in all modern guns in good conditions.
This shotshell, develops 415 m/s at the muzzle, a very high speed due to a good ballistic efficiency, very comfortable to use even when a high number of shots are fired.
Actually, it has a soft recoil and It's also suitable for modern light and super-light guns, which is why it can also be appreciated by ladies, young hunters and sensitive users to recoil.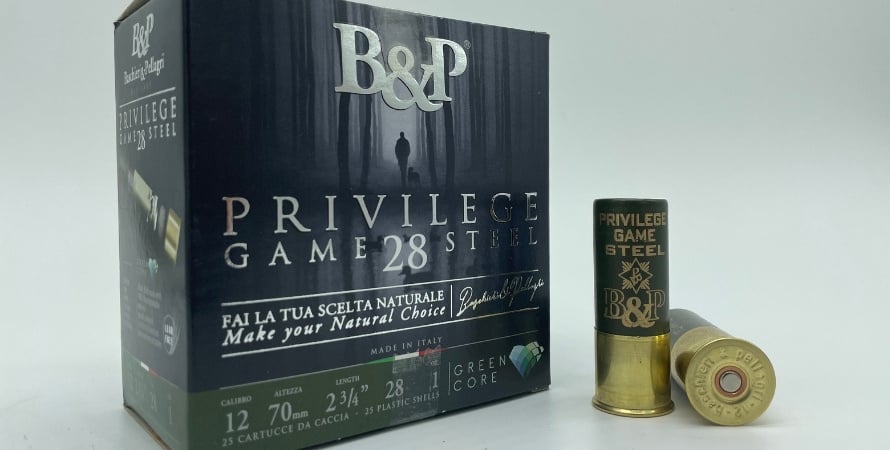 Available with selected steel shots, in numbers 4 and 5, both sizes suitable to cover every need in hunting waterfowl, where are obviously highly effective for larger and smaller ducks, it can be used for any other species of upland game in hunting areas where lead is forbidden.
The use of special Steel wad developed with 100% biodegradable Green Core line denotes the sensitivity of the company and the end user for its active participation in the environmental protection; that's why with its degradability, it does not leave plastic residues on the ground.
Privilege Game Steel 32 grams
This is a cartridge of the same line as the previous one, but with a medium weight of 32g/1-1/8oz of steel shot that obtains superior ballistics and more effectiveness.
It's evident that being a Steel ammo is a choice for "No lead" zones. In terms of ballistic performance, it is very suited to difficult hunting situations and even in the most challenging conditions. The shotshell is made by using a 12/70-2 ¾ " hull and it requires the use only of modern and strong guns.
The Privilege Game Steel 32 employs 32g/1-1/8oz of steel shot, selected for its good spherical and dimensional regularity, which shows a positive effect in the shot patterns and in the residual penetration. Its muzzle speed has been kept equal to the Steel 28, therefore 415 m/s, value suitable to create excellent lethality up to 36/38 meters.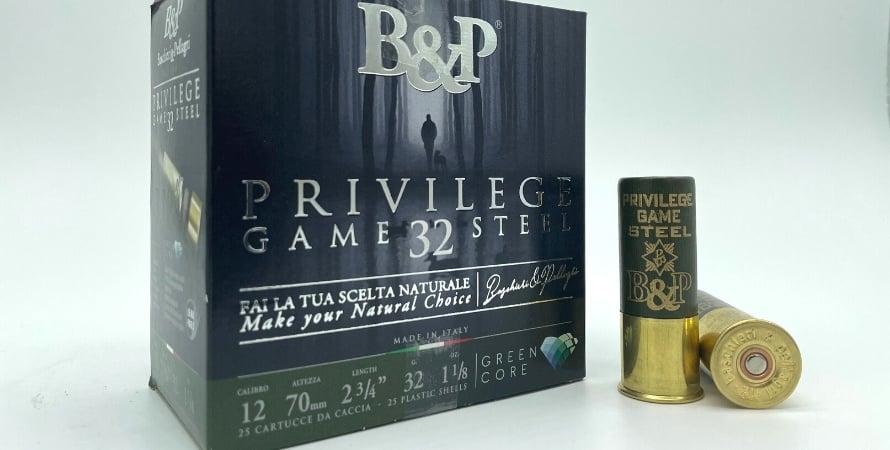 Very similar to its "light" version we find the Steel Green Core wad, in 100% biodegradable material.
Suitable for modern semi-automatic and medium weight overhead doors, it uses steel shot n. 3, 4 and 5, suitable for ducks in general and for any hunting situation even on larger and sedentary migratory game in which lead is excluded, strictly wants robust and modern guns, accepts medium-maximum bottlenecks and only with n.3 it would be good to avoid the maximum "Full" constraint.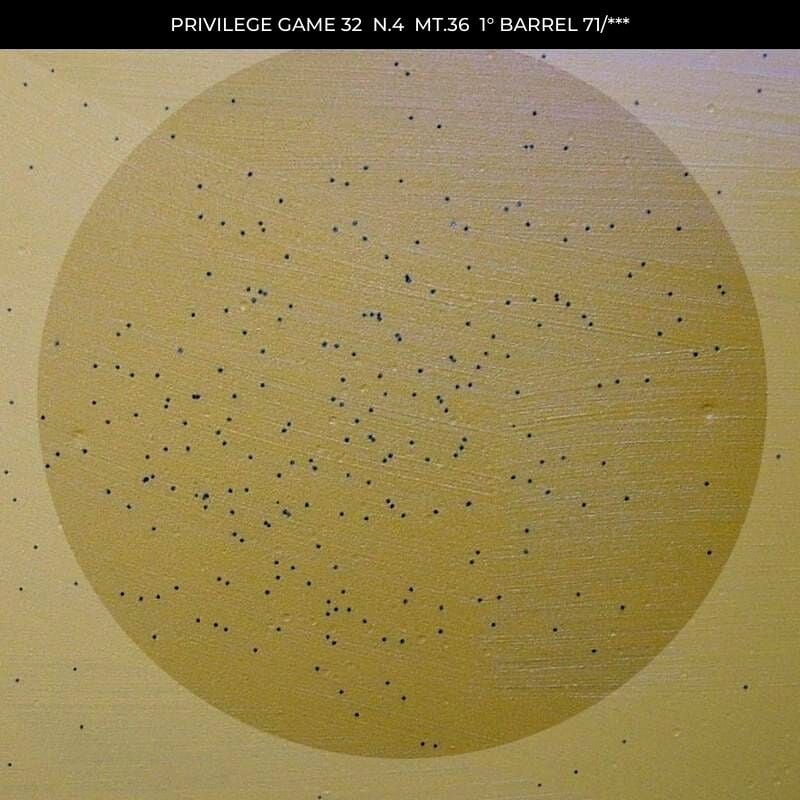 Just to clarify, "Steel Proof" weapons stamped with the Florentine lily are needed.
Dual Steel 28 and 32 grams
Let's take a look at this special line with steel shot and double numbering in 12/70 case, with 100% biodegradable material wad.
The reason for the double numbering has its origin in the ballistic advantage linked to the aerodynamics of the swarm formed by the larger pellets in the front and the smaller pellets in the caudal part.
The large pellet benefiting from a better sectional density is affected to a lesser extent by delay (loss of velocity in trajectory) and with its action decreases the impact and friction of the air fluid on the smaller pellets located in the tail of the swarm. In fact, the small pellets maintain a higher speed and therefore better dynamic and penetration characteristics.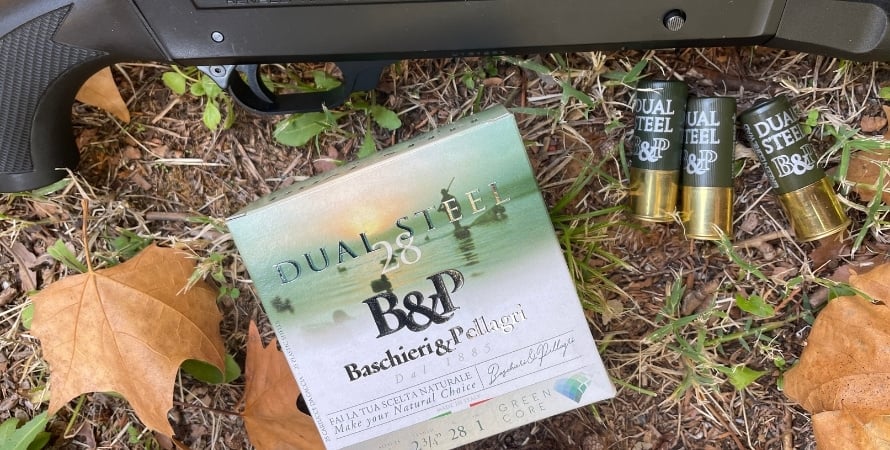 The 28 grams cartridge has been homologated as standard and as such does not require special Steel proof shotguns, it can therefore be used in all modern shotguns and in good storage conditions, even with medium / high choke barrels.
Its recoil is not particularly energetic so it can be used in light rifles without creating fatigue even in long shooting sequences. It develops an initial speed of 415 m/s adequate to create effective ballistics for good lethality over medium distances.
The 32 grams cartridge with HP cataloging requires instead "lily" shotguns, so it requires the special test for steel shot. Its performance is ballistically superior to the previous cartridge, maintaining the same initial speed with a higher mass of shot; that's why we recommend using this cartridge in medium-weight guns with which the recoil will not be too tiring.
You definitely have a better control of the gun in subsequent shots after the first.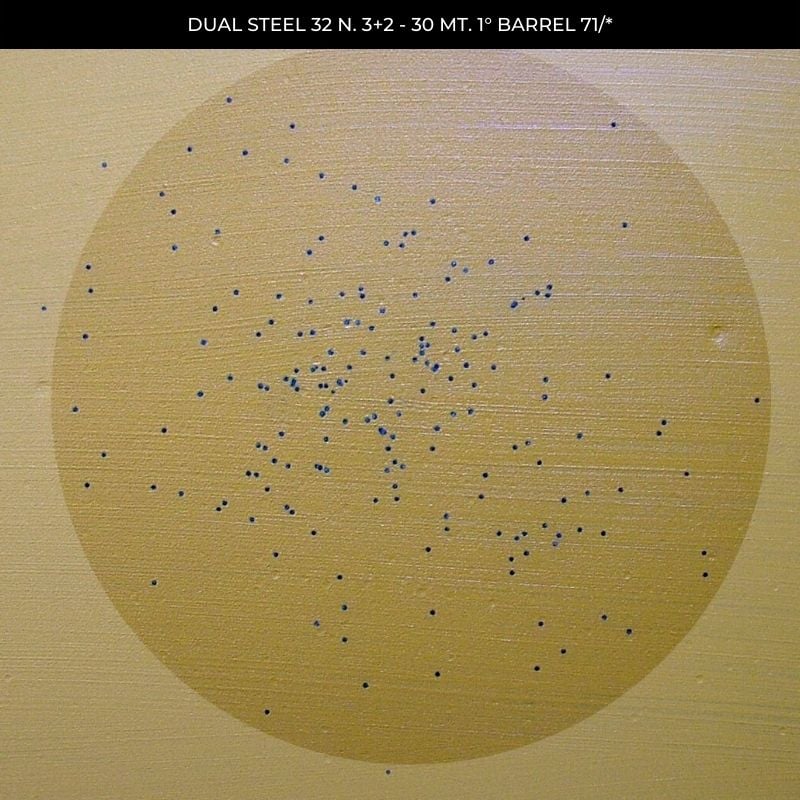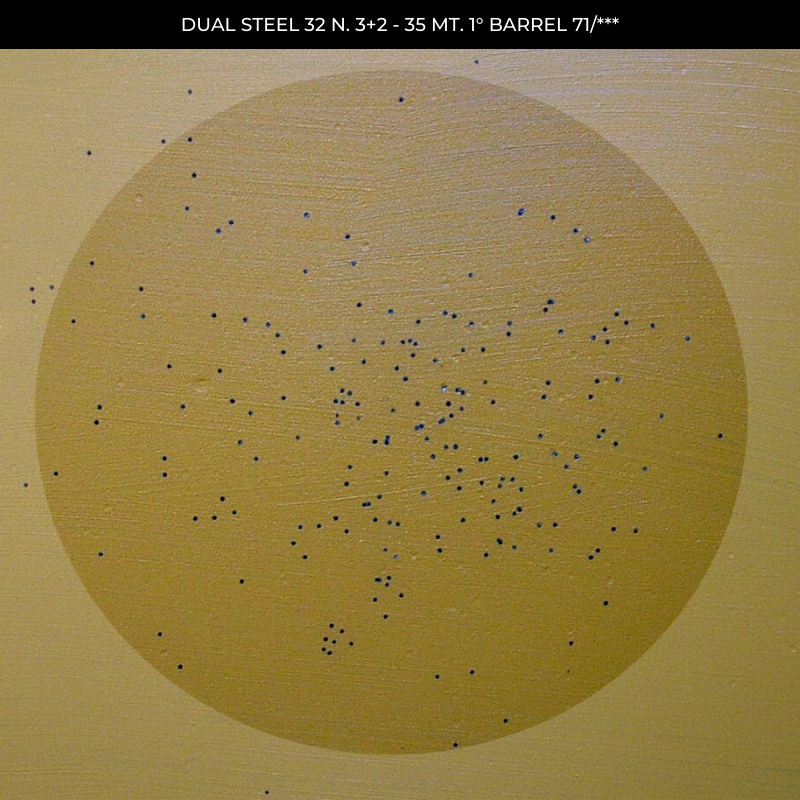 Dual Steel 36g. Magnum
This is the Magnum version of the series of 3 Steel cartridges. The Magnum caliber has significant benefits being able to reach higher initial speeds even with high weights of pellets.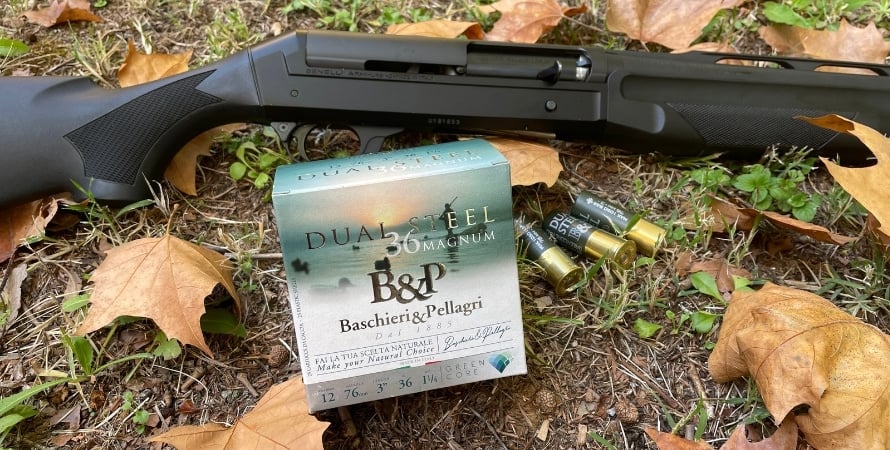 The 36grams Steel pellets used by this cartridge develops the same speed of 415 m/s already seen in the two previous cartridges, in 12/70 with lighter loads of pellets.
Because of its elevated speed and the great mass of pellets it pushes, the Magnum cartridge creates a heavy recoil that suggests an optimal use of medium-high and high-weight shotguns, better controllable when it fire and more comfortable to use.
So we can say that it is a Magnum Steel cartridge with effective ballistics and therefore suitable for shooting at the maximum range allowed by using a steel shot, we can estimate the maximum ballistic efficiency to about 38/40 meters.