Privilege Game is a new line of premium hunting shotshells, engineered and developed as a novelty for the hunting season 2022/2023.
The most important aspect, beside the beautiful image, is the use of the selected component and the new line of wads made with 100% biodegradable material: the Green Core line.
Privilege line consists of two different types of shotshells with lead and steel shots, for the use in every hunting scenario, for waterfowl (steel) and upland game (lead), that as we know have a protection belt of different wideness where the lead shot is forbidden.
Let's take a look about the different products!
Privilege Game with lead shots
The product line is based on 3 different loads 30, 32, 34 grams for lead pellets and two different loads, 28, 32 grams for steel pellets. Every weight includes container or felt wads.
The reason of different payloads has a rational explanation: the variation of recoil level. Light and extra light shotgun will find a perfect combination with lighter loads.
As we'll note later the different payloads bring a decrease of the number of the pellets inside any single load with small differences about the effective range of any cartridge. The steel shotshells have light loads to reach higher velocity, because higher speed means more ballistic effectiveness.
Privilege Game 30 grams
These light loads of the Privilege lead product range employ a short hull of 67mm. / 2,5", that means they are a right solution for all the older premium guns with short chambers.
Light loads are made for light and extra light shotguns or for recoil sensible people, above all women and children.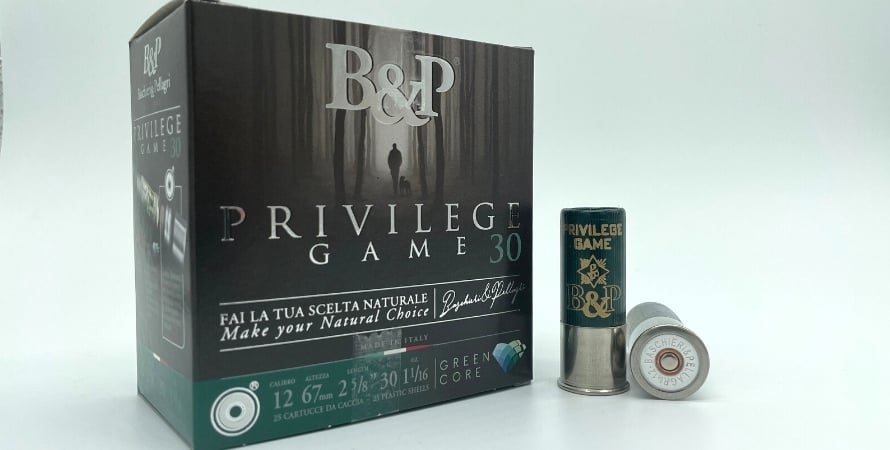 The type with felt wad combines good effectiveness with elective use in hunting wood range, where you normally never shoot at long distance.
The line with container wad gives to this light cartridge an effective ballistic in tight choked barrels up to 38 / 40 meters.
For this reason, the Privilege Game with 30 grams of lead shots will be an elective choice for those "featherweight" shotguns that are the classic side by side with a weight between 2650 and 2850 grams or for the now diffused semiauto shotguns and "Ultralight" not infrequently characterized by an even lower mass, close to or between 2450 / 2650 grams and still in guns generally with a short barrel.
For their perfect ballistics, the two Privilege Game 30, both fiber and with plastic container wad, will give to super-light guns lovers a ballistic performance of rare efficiency, showing a very good lethality and excellent long range performance, in spite of their soft load cartridge.
The different patterns obtained by our tests clearly show their excellent ballistic value and a recoil really soft.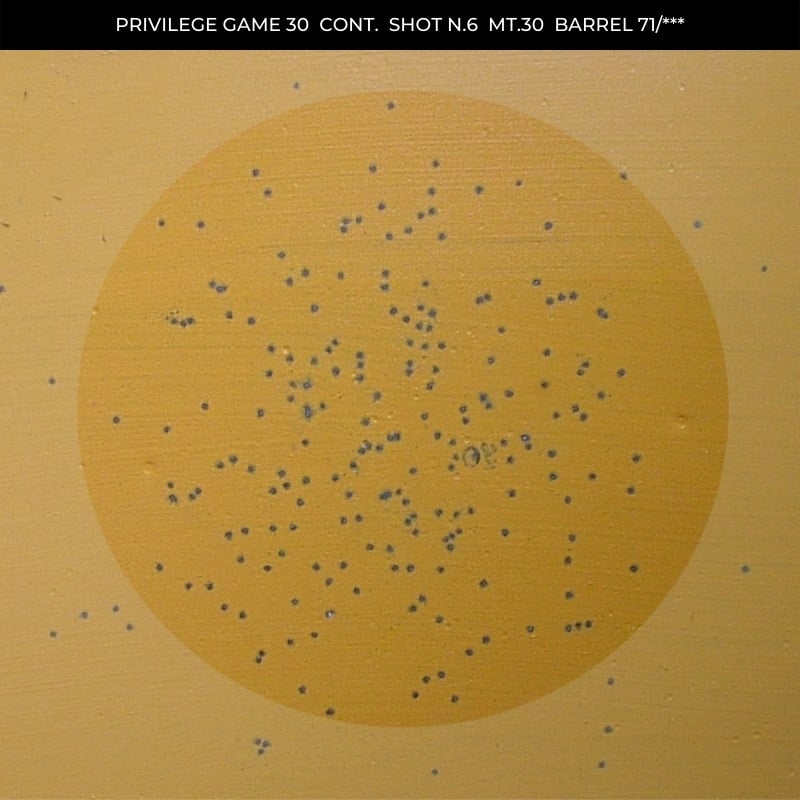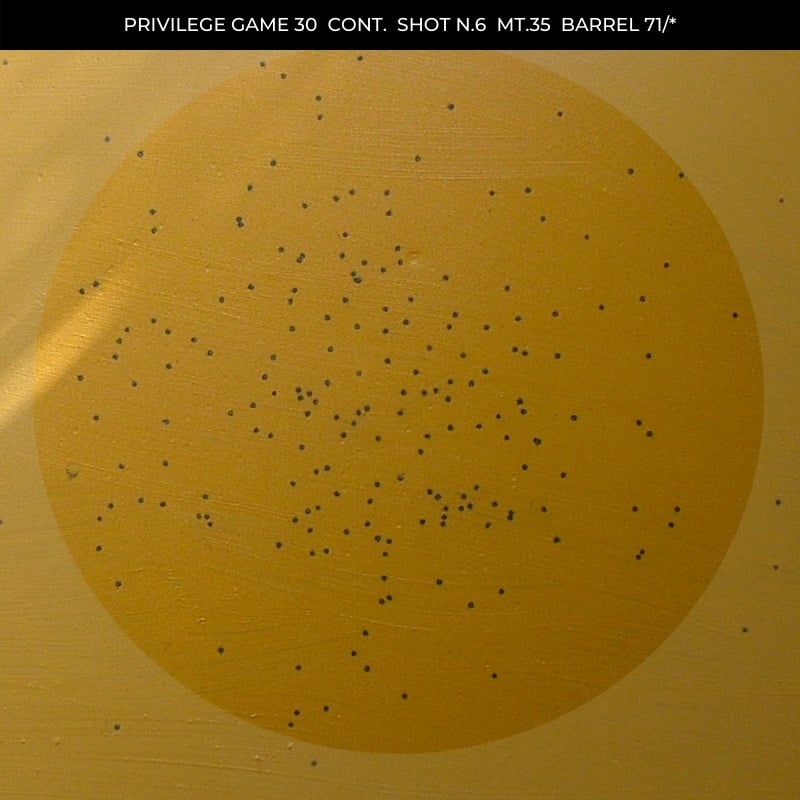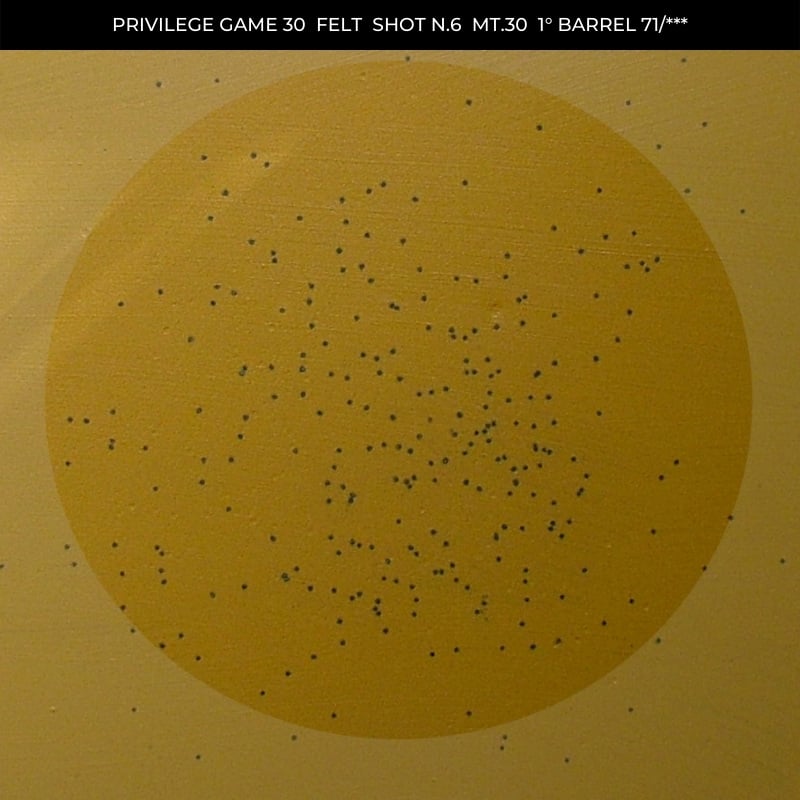 Privilege Game 32 grams
The 32 grams cartridge is in the 12 gauge a multipurpose and rational choice.
The 67 mm. shell gives the concrete possibility of using these cartridges in any vintage shotguns with an older 65 mm /2.5 " chamber, prevalent in many prestigious "vintage" side by side and superposed shotguns built by the best Belgian and English gunsmiths of the last century.
This ammunition, with standard weight and with a good pellet speed, shows an excellent hunting performance, with mild recoil even in featherweight and medium weight shotguns around 2.9/3 kilos.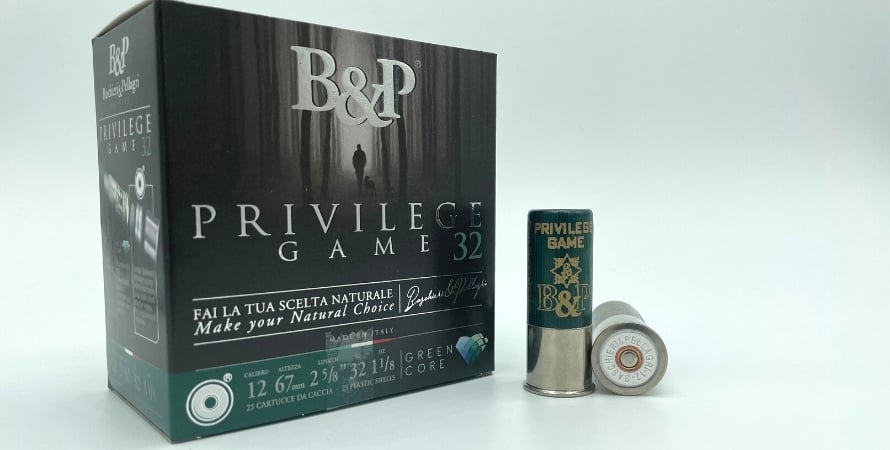 With the 32 grams in the 12 gauge we can obtain a good ballistic and an excellent effectiveness, in the specific case guaranteed by good patterns and a deep residual penetration, also guaranteed by the selected special lead, hardened and polished.
With these features, the Privilege Game 32 finds its elective use in side by side and superposed guns and even with semi-auto shotguns of medium weight, the most diffused type of hunting shotguns.
The traditional felt wad makes the patterns more generous and always very suitable for the first shot in any hunting situation, but especially in hunting with dogs or when you need to shoot at medium range.
Instead, the one with container wad shows a good efficiency even when we need to shoot at long distance.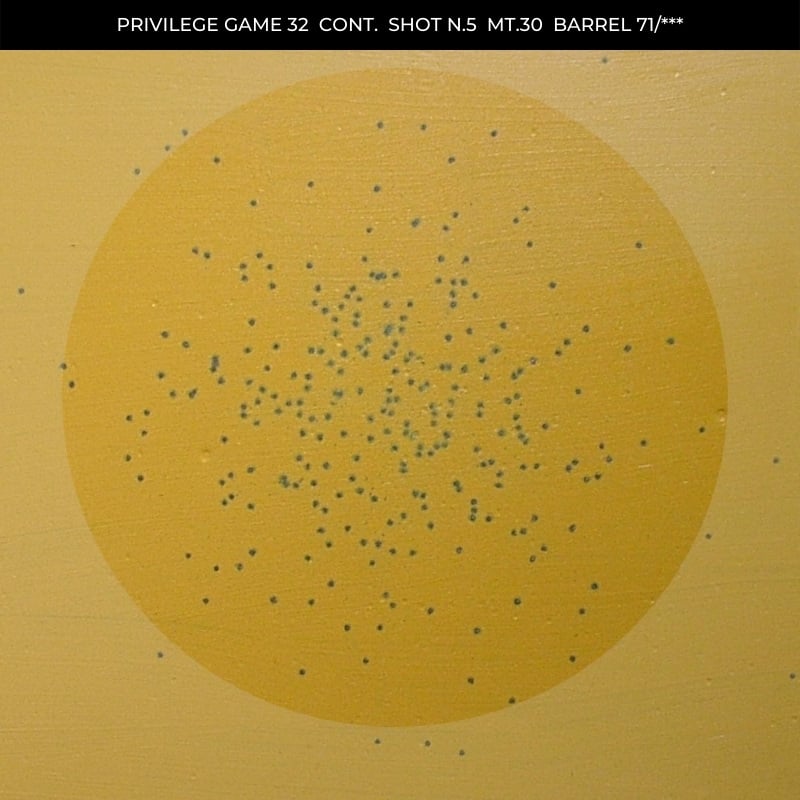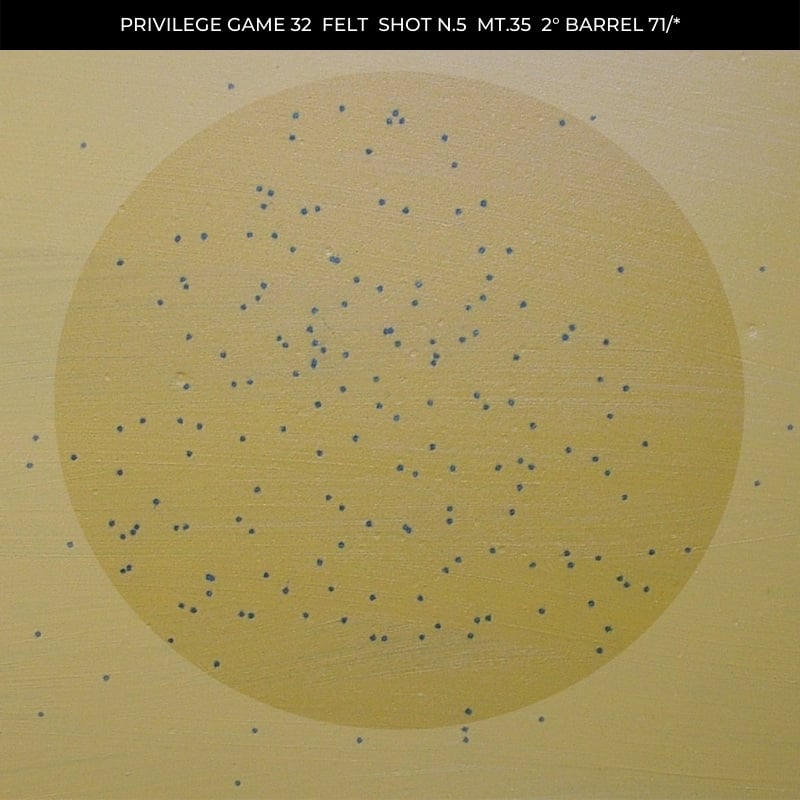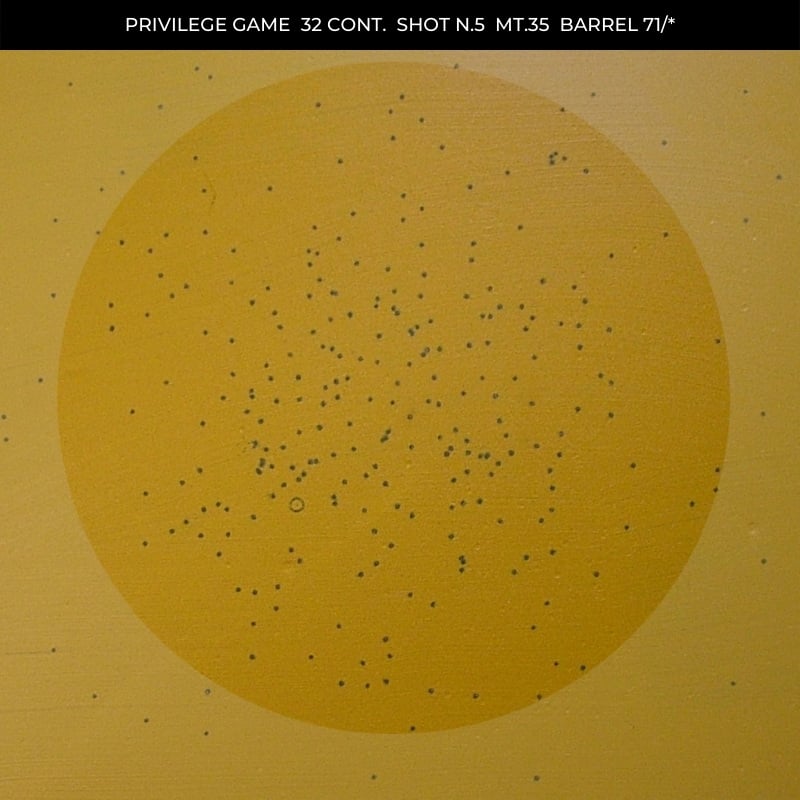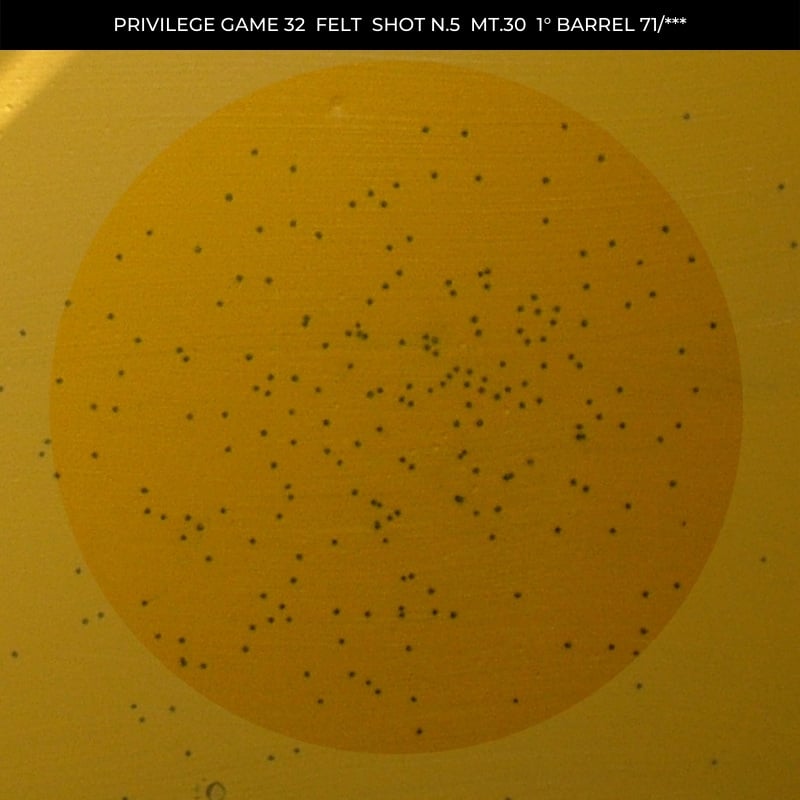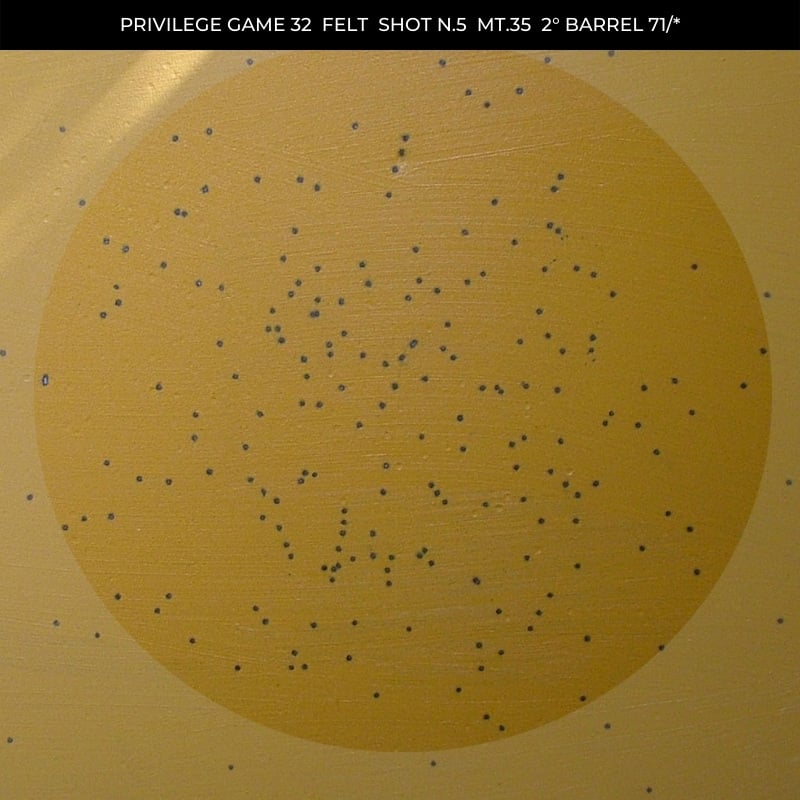 Privilege Game 34 grams
The product line includes the cartridge with 34 grams, also available with the two different types of wads.
Medium high weight and high speed, compact, tight and regular patterns; this mix of positive ballistic characteristics gives to the cartridge a superior performance.
Thus, with the Privilege 34 we switch to a 12/70 cartridge hull, to be used in guns with 70mm./2 3/4" shotshells that better suits the cartridge of high power and optimal ballistics.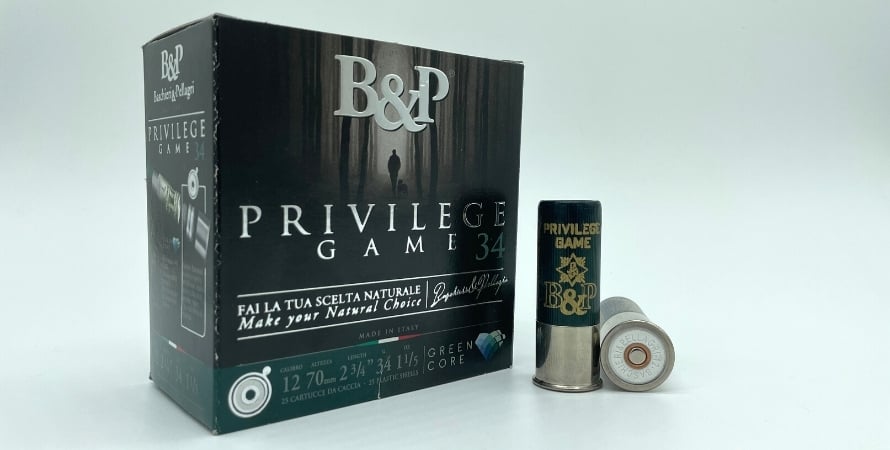 The double type of available wad (fiber and plastic wad) remains as a basic feature of this product line exactly like the use of the 100% biodegradable material.
After all, the Green Core line always includes this ecological innovation.
The cartridge is suitable for important hunts and strong game, even in difficult climatic conditions. During the hunt, the prototypes tested by us was very effective. It's perfectly suitable in side by side and superposed guns.
It's a good choice for semi-automatic shotguns, to obtain the best comfort it requires a weight of the weapon at least average, not less than 3 kilos and better on a few hectograms heavier.
The version with felt wad give us more generous patterns, perfect to type of hunts where and when is planned to shoot at medium range, but it's always effective up to 38/40 meters in full chocked barrels.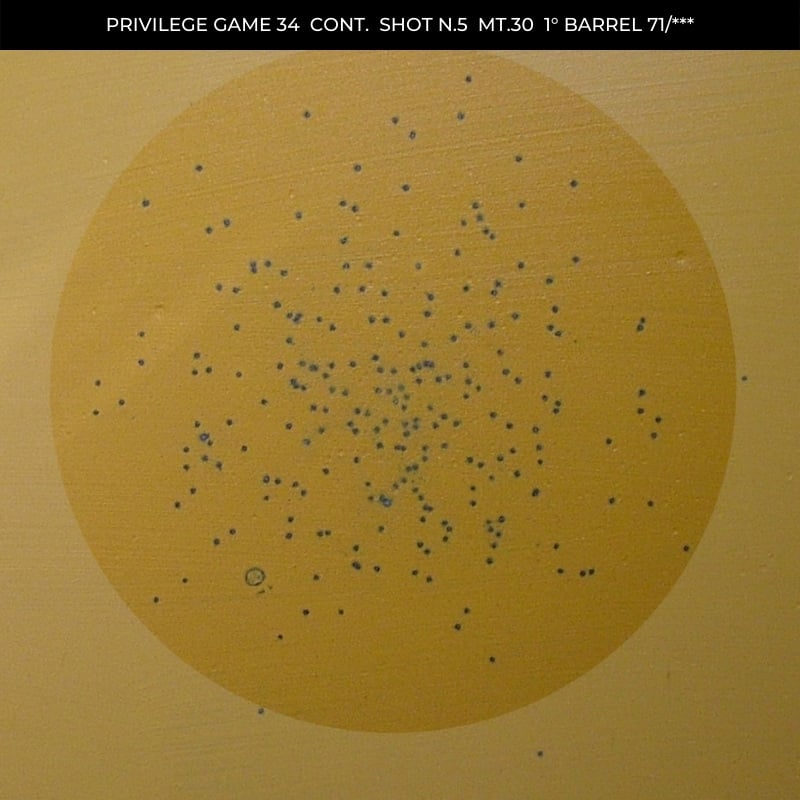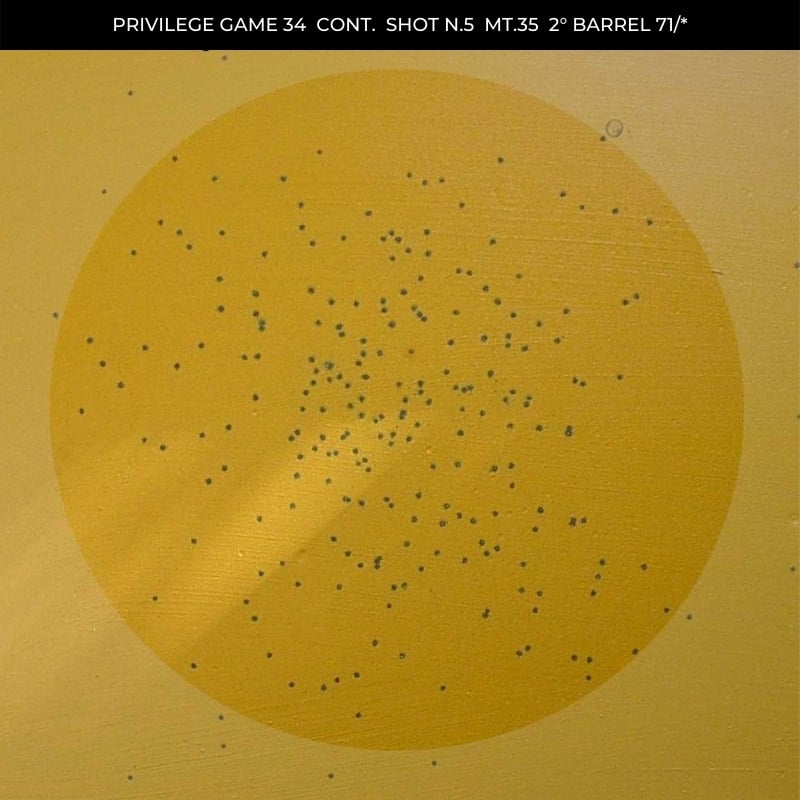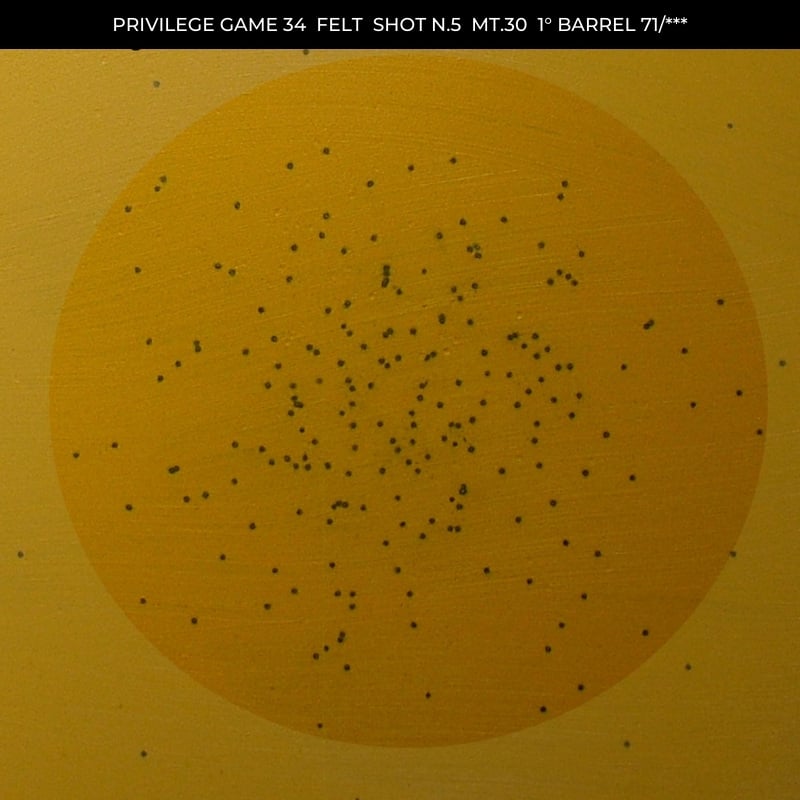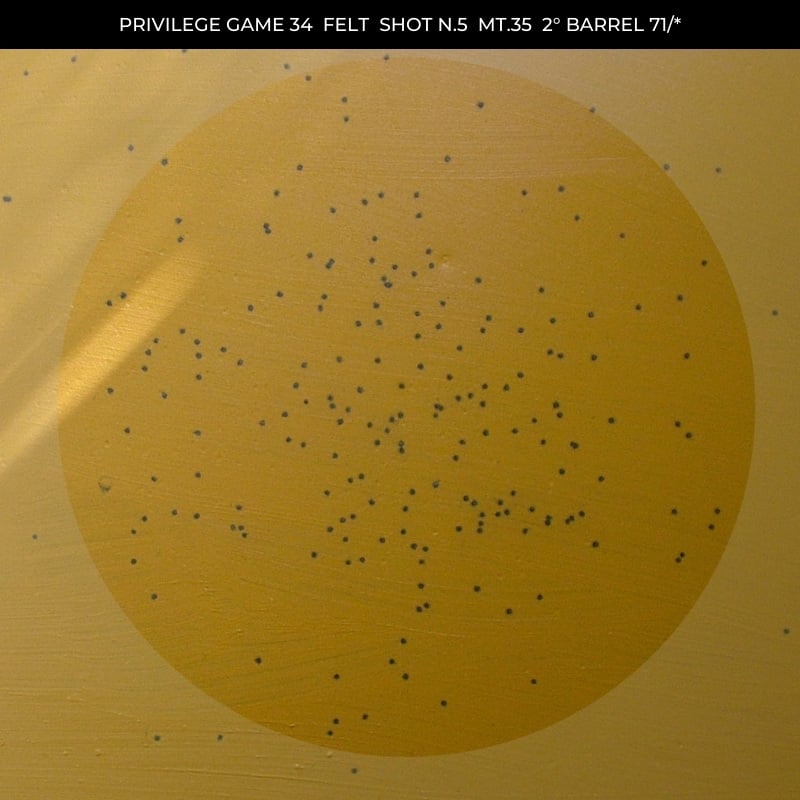 Privilege Game with steel loads
The Privilege Game line is completed by a series of two cartridges with steel pellets created to use it in special protection areas where lead ammunition has been banned.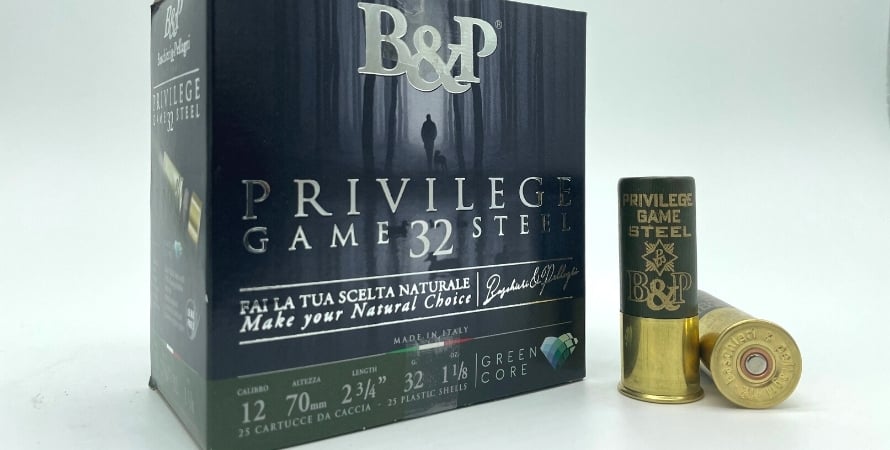 The first one has a light load of 28 grams of steel shots that reaches a very high speed which as we know is very important for the effectiveness of these special cartridges.
The second one is a medium load with 32 grams of pellets animated by a high initial speed and with a greater number of units identifiable in the pattern produced by this cartridge. The pattern is very excellent in density and distribution.