In 2020 the novelties at Baschieri & Pellagri continue. Following the trend of previous years, B&P presents new shells for hunting and shooting, always listening for requests from their customers.
Let's see together all the new ammo that will upgrade the wide Bascheri & Pellagri offer.
Mygra "Anatra" Magnum
Today waterfowl hunting needs accurate and specific products.
Since several years B&P, in the person of Marco Manfredi, R&D Manager, is studying different solutions to find the best no toxic materials, that allow our products to reach performance similar to lead and gain the trust of the hunters.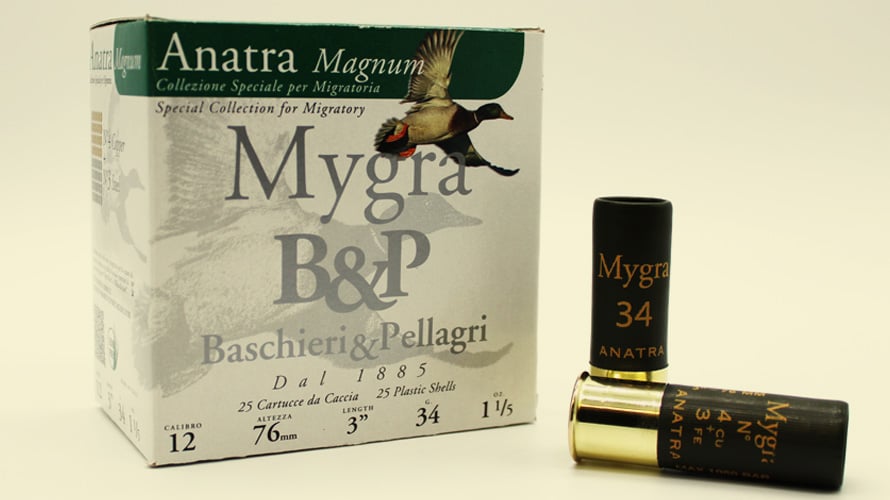 After having developed line in steel, copper and tungsten, in 2020 B&P presents a new payload with copper and zinc plated steel, adding it to the premium Mygra Line. Mygra Anatra is a shotshell for Magnum shotgun.
The combination of 2 layers of copper and zinc plated steel shots, allows more energy more lethality and and high penetration even at medium long distances. This performance are due also to the high velocity studied for this ammo: V2,5: 430 m/s. To use with "steel shot" approved shotgun.
Balistite in 20 gauge
After the launch in 2019 of Balistite 34 grams, born with the study of a new powder, B&P decides to add a gauge 20.
Ballistic main features of this cartridge, in 27 grams, are a good initial velocity of 400 m/s, and as result an high penetration power on different type of game.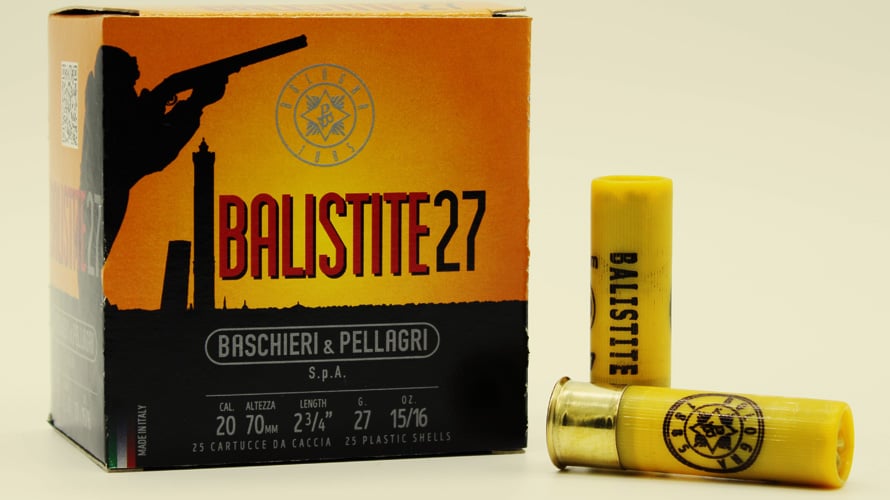 The powder, with high level of nitroglycerine, allows the consistency of the shell in different weather condition, also with a lot of humidity.
Hunters will appreciate this product in particular during autumn and winter time, with fog and rain, and thanks to the variety of pellets size, it will be suitable for different type of hunting.
Big Game Palla Hyper Shock
The experience and the high knowledge allow B&P to have one of the most complete range in terms of Slug and Buckshot. The worldwide success of our Thrillshock slug brought our R&D department to study a new product and create a slug with a similar design, but with a heavier structure.
Hyper Shock loads a slug, with plastic tail with 18 spiral ribs, with semispherical hollow nose. The heavy and rigid structure, allows more penetration and therefore the ballistic efficacy on big animals.
This powerful slug shotshell is suitable in particular for demanding shots and the terminal ballistic is extreme also at long distances.
With these features, this slug ranks on the scale between the classic slug gauge 12 and the soft point rifle of medium power/velocity (9,3x57 e 9,3x62, 35 Whelen, ecc...).
Active Buckshot for practical shooting
The continuous improvement is leading the daily work in B&P. That's why this year B&P presents a new buckshot in the Active line, dedicated to the practical shooting community.
This product needs specific pattern features and we have studied a dedicated payload. The particular layout of the 8 copper plated buckshot (11/0), inside a container wad, allows a great concentration of the buckshot in the shot pattern.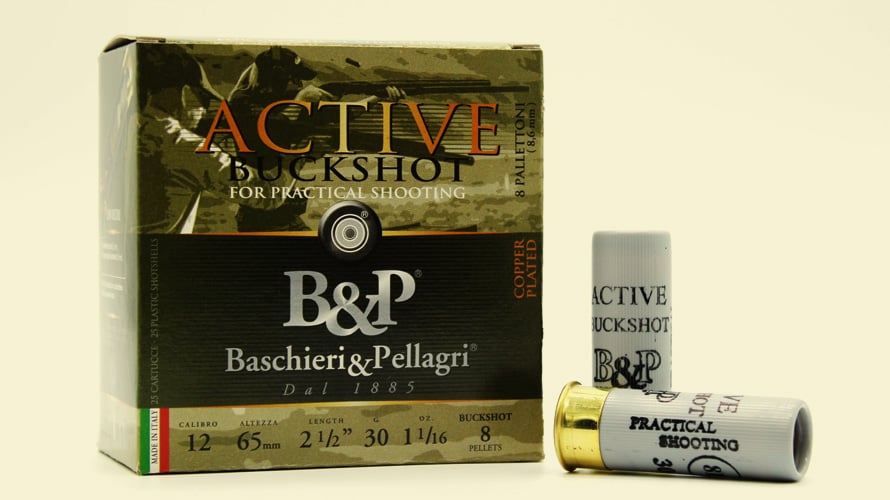 Thanks to the Gordon Hull, that includes a unique double shock absorber system specially designed to minimize the felt recoil, the shooters will have less perceived pressure on the shoulder, more comfort, less hesitation and faster next shot acquisition.
Do you want to know more about B&P ammo? Download the new 2020 product guide!