This past May 2018 was my first experience chasing snow geese and now I am hooked for life. My hunting buddies Duncan MacLeod, Bryant Jenkins and myself drove to Saskatchewan on a DIY snow goose trip.
There is no better way to learn than to jump in head first.
Unfortunately, most locals we talked to kept saying:


"Too bad you weren't here last week, there were so many of those big white birds everywhere!"

This was a bit concerning to us, but we put the work and hours in, and found the birds.
Looking back on it, i can't remember the last time something went as smoothly as this hunting trip did, it was one of the highlights of our year, and we left eager to be back in the fall.
What ammunition we used in our geese hunting trip

The ammunition we chose for this trip was Baschieri & Pellagri Magnum Steel 12 gauge 1&1/8 ounce BB's. This was our first time using this ammunition, and it will definitely not be our last. This shell is easily the best performing and most consistent shot we have ever hunted.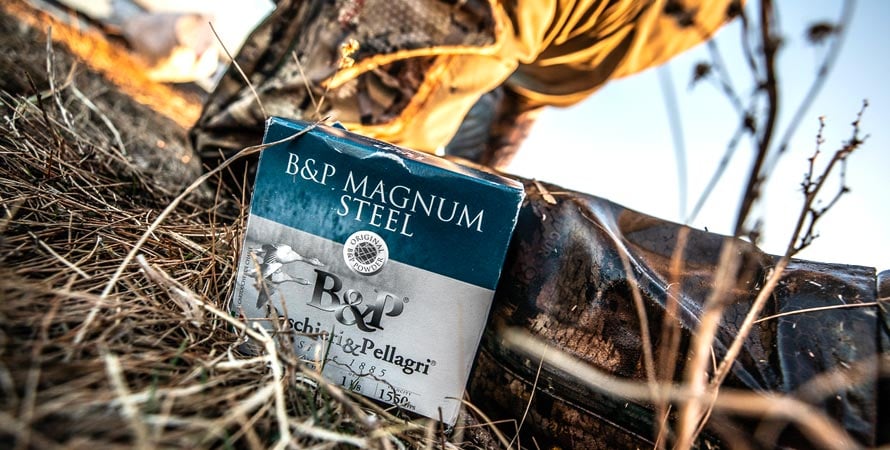 Previously we shot Dryloks, Hevi steel, Federal, and Rio shotgun shells. We went through three cases on this trip without a single misfire, and the patterning is just as consistent from 5 yards as to over 60 yards. The biggest surprise to me about this shell was the range. We were all truly amazed.
It was a difficult first hunting day with uncooperative geese and wind

As we got out of the truck for the first day's hunt, the sounds of distant snow geese fueled our anticipation. We quickly gathered all the gear and deployed over 20 dozen decoys in record time due to excitement.
As shooting time approached, we loaded our shotguns with 3 B&P shells each. We could see geese coming off their roost in the distance, circling around in utter chaos, gaining elevation rapidly in the sky.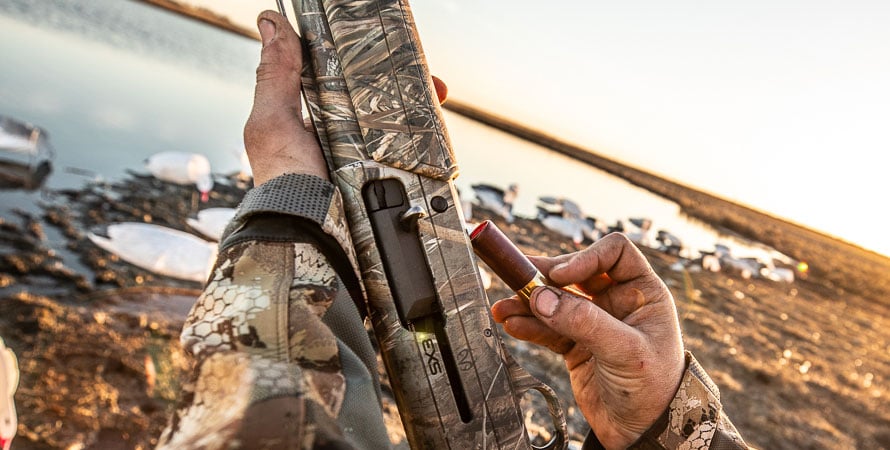 As our chambers slammed shut, the first line of geese made out our decoys, and headed our way. Right at shooting the group of geese had made a dive toward our spread.
The headed straight for us, until hesitating at 80 yards and eventually flying off. That would be the theme for much of the morning.
Frustration was growing, and we tried everything in order to improve the hide, including changing the shape of our decoy spread. After a discouraging morning with spooky geese and changing winds, we decided to end the hunt with 35 geese down.
If something isn't working, don't be afraid to make a change…even if it's your location

After the hunt, we made the executive decision that we were not in the right area.
To drive over 10 hours and only find two decent concentrations of geese, was all the convincing we needed to pick up and move locations. We ended up packing up shop and headed two hours in another direction, after doing some mobile scouting.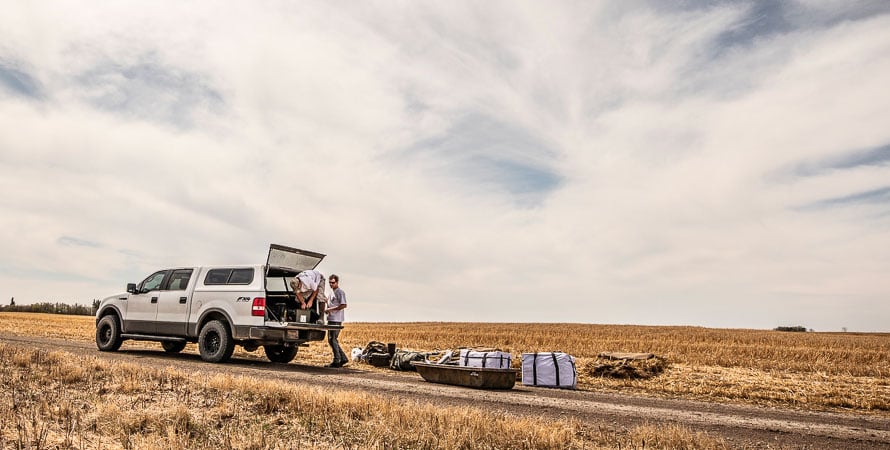 We saw several small concentrations of snows along the way and stumbled along a small town and decided to turn down what I thought at first was a road that would lead to nowhere. After seeing nothing but marsh and barren fields for over a mile, what we found at the end of the road was what we had come to Saskatchewan for.
We drove up a swathed barely field that was holding every bit of 100,000 snow geese. We estimated that the property collectively was holding around 200,000 along with the different loafing ponds and adjacent fields.


The sounds of the geese were deafening, and our hearts began to race.


Needless to say, we were all on the edge of our seats. We scrambled to find the landowner who was gracious enough to allow us on his property.
This property would treat our group for the next three days to some of the best hunting we have ever experienced. Not only that, it would also present us with three totally different hunting scenarios.
Start to trip of a lifetime

After gaining permission to hunt that morning, the decision was made to hunt that afternoon.
Once we got some food and a quick nap, we raced to the field with plenty of time to set up to ensure that everything would be right for this field. As we were getting set up geese started hopping from an adjacent field coming to our field.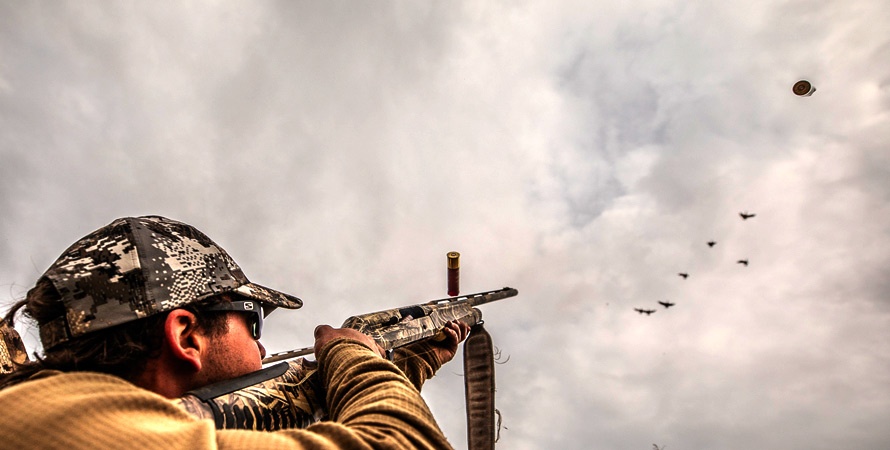 Once the trickle started it would continue for the next five hours straight.
The three of us shot our limit of snow geese, but not without a few minor changes to the spread as the geese made it evident that something wasn't quite right at first. What followed was an afternoon watching everything Saskatchewan has to offer that time of year. The amount of Speckle bellied geese, Canada geese and ducks that came in the decoys was the cherry on top to an amazing day of hunting and certainly fun to watch.
Snow geese over water

We saw geese using a small pond near the field that we hunted the day prior and decided that would be the target hunt for the next day. Snow geese over water is not a typical setup, but again it is something offered is Saskatchewan that is second to none.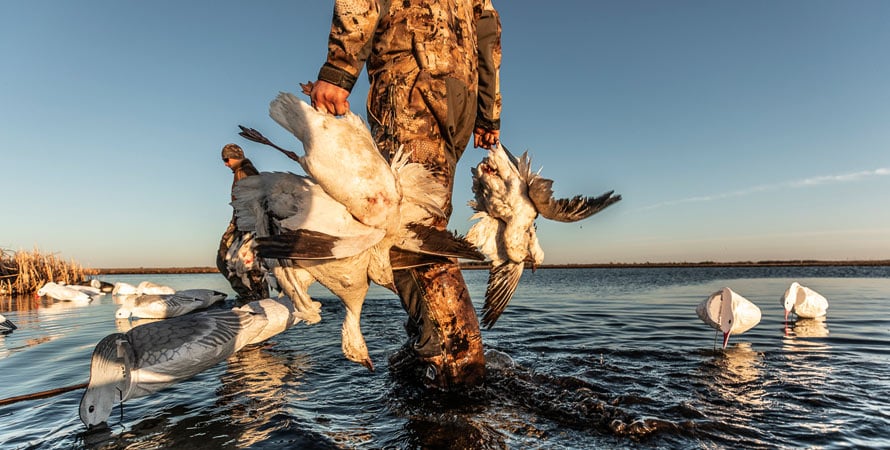 This setup also allowed us to get some much-needed sleep, as the geese were not using it until mid-morning. This was my favorite hunt by far.
The quality of decoying geese was phenomenal. The action was not as hot and heavy as the field, but the birds we did shoot were all as beautiful. All of our shots that day were 5 to 10 yards in the decoys. We finished the day with another limit of geese and a band to add the cherry on top.
Back to the barley

The final day we hunted a different section of the same swathed barley field. We chose to hunt it in the afternoon again based on what we had seen the previous day. The geese seemed to be using it more in the later afternoon.
The geese did exactly as they had the day before, and it offered yet another lights out day of hunting.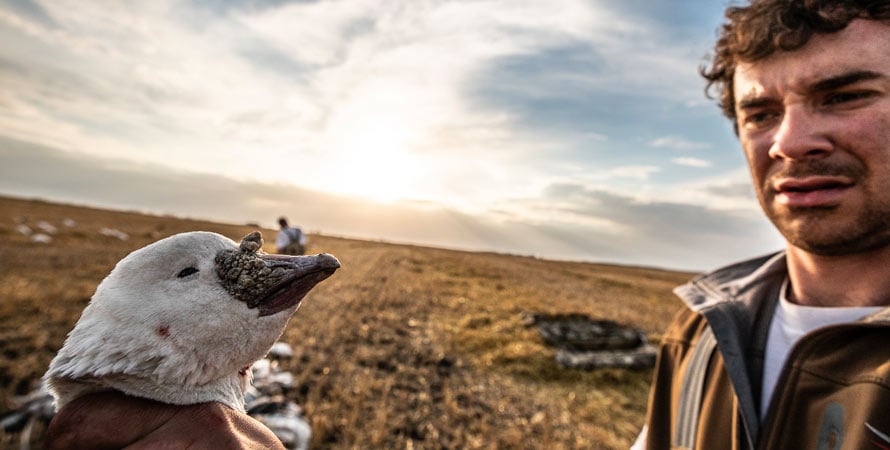 We ended the day and the trip with another limit of geese, and an adventure that will be etched forever in our memories. Sometimes you just have to work a little harder and you will be rewarded!
This will not be our last snow goose journey to Saskatchewan.
Wait... and what about B&P shells?
B&P ammo have changed the game
Spring Snow Goose hunting in Saskatchewan, Canada calls for ammunition by the case, not the box. Waterfowl hunters need a go-to shotgun shell with consistent impact power and speed.
Baschieri & Pellagri has the most reliable load our crew has ever used. These are hands down the fastest and most powerful shells that we have ever put into our guns. These 12-gauge loads consistently produce clean kills. Birds are no out of range flying over the spread 80 yards in the air.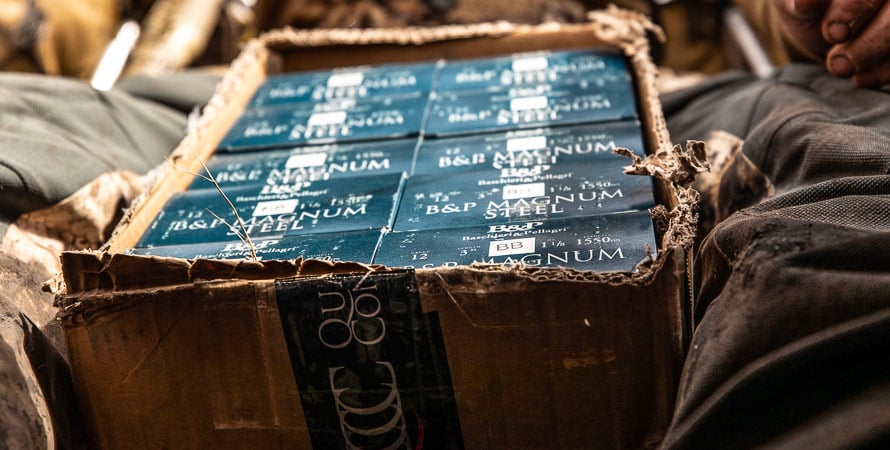 Baschieri & Pellagri has changed the game when it comes to what qualifies as an "in-range" bird. I truly did not think a 12-gauge load could produce these types of shots as consistently as B&P did this past week in Canada. I can confidently say we will not be shooting with any other type of ammunition going forward.


Waterfowl Hunter Duncan Macleod Raleigh, North Carolina
Clean kills at every range
I can't say enough good things about my first experience with Baschieri & Pellagri ammo. I have waterfowl hunted for over 15 years and have experience most every shell on the market and can truly say this is the best performing and consistent patterning shell.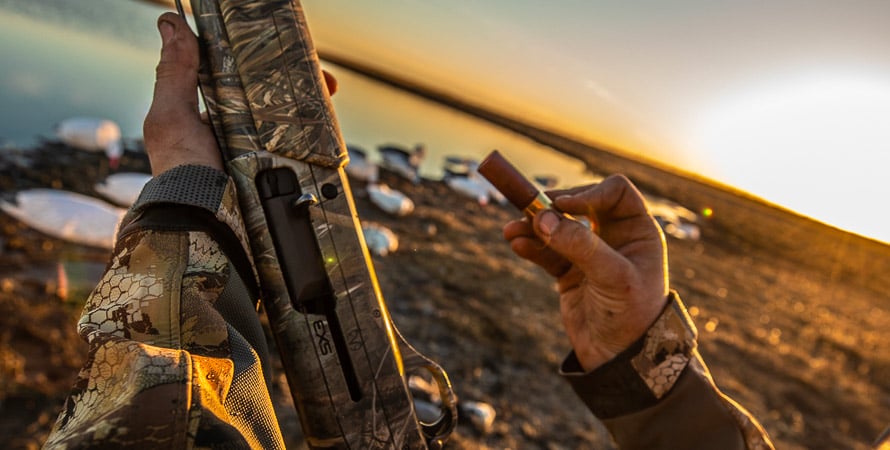 From 5 yards to 60 yards it produces clean kills. We went through 3 cases in a week and no one had a malfunction with any single shell. I will be a lifelong customer.


Waterfowl Hunter Bryant Jenkins Bozeman, Montana
The hardest hitting shells I have ever used
As a waterfowl hunter there is nothing worse in the world than pulling up on a bird and pulling that trigger to hear the quiet hopeless sound of "click". I clean my gun religiously and my biggest concern when buying a shotgun shell is reliability.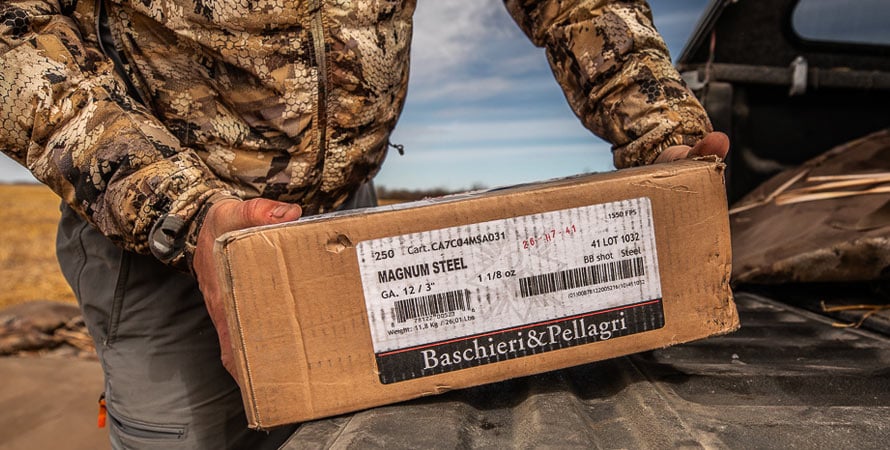 With the amount of time we put into finding birds, the last thing I want to think about is if my gun is going to cycle. B&P passes this test. My second concern when picking out a shell is knock down power. Baschieri & Pellagri Magnum Steel loads are the hardest hitting shells I have ever used hands down.
The last category for me when shopping for shells is price. As a waterfowl hunter buying case after case of shells can add up. B&P is one of the most affordable shells on the market. This will be my shell of choice going forward.


Waterfowl Hunter and Photographer Nick Costas Bozeman, Montana